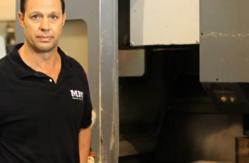 "We provide a turn-key service for our clients, providing an opportunity to maximize their return on investment." Paul Zimmer - President, MMI
Chicago, IL (PRWEB) September 01, 2011
Machinery Marketing International, LLC (MMI) has been in the business of buying, selling and marketing machine tools and used CNC equipment for over twenty years. In November 2010, the company capitalized on this extensive experience by launching the online MMI-auction.com platform, a new B2B internet auction service that gives sellers the opportunity to offer inventory to an international audience of over 250,000 potential buyers. These buyers compete with one another by bidding for machines over a three week period to ultimately purchase the used CNC equipment.
In May of 2011, the company launched MMI Liquidation Services, a new service that expanded on the company's original platform and provided business owners, banks and other machine tool-holding entities with the opportunity to sell high volumes of used machines in a dedicated auction. In keeping with MMI's dedication to the seller, these auctions are structured around selling only the client's machinery to ensure that the seller gets maximum exposure and profit out of the auction.
The strategy of MMI is to provide turn-key liquidation services that are convenient, economically efficient and that favor the seller. Paul Zimmer, President and Founder of MMI, described this concept with the following statement: "We provide a turn-key service for our clients, providing an opportunity to maximize their return on investment. Our global reach, coupled with our marketing expertise, ensures our clients' machines will get maximum exposure providing top dollar for their inventory."
MMI's dedication is further evidenced in the company's willingness to travel to the seller's location to properly evaluate each piece of machinery that the client wishes to sell. The process is designed so that an MMI representative will provide a detailed assessment of the value of the machinery, which will include pictures, videos and specialized inspections. This detailed assessment ensures that each client gets the full compensation deserved for his or her machinery, which is especially important since many clients are unaware of the true value of their machinery. Furthermore, MMI will handle all of the logistical aspects of getting the machines to the auction, including rigging, freight and whatever other shipping accommodations may be necessary.
From there, MMI will develop a strategic marketing plan that is tailored to maximize auction traffic and, therefore, increase both interest and sales. The auctions run for three weeks, allowing as many potential buyers as possible to browse the site to identify technical specifications, compare equipment, ask questions, and submit bids. Since MMI has strategic alliances in over forty countries, the vast network of buyers guarantees a quick and high volume response to each auction that maximizes both profit and percentage of sales.
To facilitate the high volume of responses, the company will process and handle all inbound and outbound correspondence with prospective buyers to ensure quick, professional and informative responses regarding your equipment in order to encourage sales. MMI will also provide clients with a reliable inside account representative to administer to any questions or needs throughout the process.
Former clients of MMI can attest to the effectiveness of the company and its exceptional devotion to bringing convenience to the client's end of the deal. Former client Mark Veley, President of World Class Manufacturing, expresses his own positive experience with MMI by stating "When World Class took over Wiza, there were a lot of excess machines. We tried to sell the machines on our own and they weren't moving. Paul Zimmer of MMI contacted me and we talked about doing a dedicated online auction. An MMI representative came in took all the pictures and video of the machines. They made the process painless. The rest is history. I received maximum dollars for my excess machines and spent zero resources in the process."
The company also does conventional deals on CNC machines. They will buy one machine or an entire plant. MMI Auction is located at 1101 W. Monroe #1A, Chicago, IL 60607. Further information on the company, CNC machines for sale / Sell CNC machines / Buy CNC machines, or the online auction site may be obtained by calling 312-226-4150, sending an email to info(at)mmi-auction(dot)com or visiting the company's online auction site at http://www.mmi-auction.com.
###