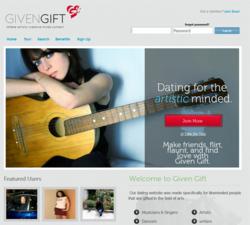 If you are single and artsy, you're going to love Given Gift, especially while it's free, says internet marketing guru Jay Correia.
New York, NY (PRWEB) September 08, 2011
People involved with music, entertainment, and other forms of art just received quite the gift when it comes to their ability to connect online with the newly launched website, Given Gift.
The new dating website is a fun, fresh, and impressive portal that was made specifically for musicians, dancers, actors, writers, and others in the arts and entertainment industry. The site features powerful tools that allows members to quickly create and manage their profiles while saving their specific match criteria.
Members are using Given Gift to make friends, flirt, find love, or just have a fling with like-minded artistic people. The website is also proving to be a great place to network with others beyond just the emotional connection as many in the talent-recruiting arena are checking out Given Gift.
Imagine dating a talent scout or another musician that has the same passion. This is a dating website that encourages that and a whole lot more. Amazingly, the Given Gift website is totally free. The artistic dating website is currently accepting new members that are "in the industry" with no strings attached. Eventually the site does plan on rolling up the red carpet and charging for members in the future who don't get on board soon.
At a glance, Given Gift allows members to:

Search members by talents and location
Find profiles by date-specific-interests
Upload unlimited photos & videos
Send and receive instant messages & emails
Save searches, displaying matches quickly
Feature themselves and gain talent-publicity
Click to create a free profile on Given Gift
If there is a musician, dancer, actor, writer or someone else in the arts and entertainment field, Given Gift was made for them. This is where the industry finds a date.
# # #