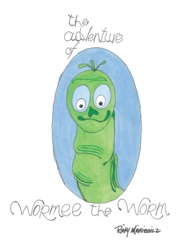 Both parents and children will have fun with the colorful illustrations
Chicago, IL (PRWEB) September 09, 2011
For those who have trouble believing a worm can maximize the potential of a child's imagination, Ricky Mickiewicz has proven otherwise. In his new book, a unique main character aims to show that happy endings are possible with perseverance.
In The Adventure of Wormee the Worm, Mickiewicz creates a canvas for youth creativity as he poses the big question: Can a city worm survive the beach bum life? As the aptly named Wormee seeks adventure, children are encouraged to use their imagination and fill in the blanks to a story that doesn't include a traditional page-by-page scripted storyline.
"Both parents and children will have fun with the colorful illustrations," says Mickiewicz.
The inspiration for The Adventure of Wormee the Worm is based on Mickiewicz's own big move from Chicago to Hawaii, serving as the foundation for the theme that anything is possible. Centered on the notion of dreaming big, the story illuminates the ability children have to vocalize their interpretations and teaches them to associate words and ideas with the colorful images they find inside.
"The theme of this book is that anything can happen," says Mickiewicz. "There's an adventure right outside your door, you just have to look for it."
The Adventure of Wormee the Worm
By Ricky Mickiewicz
ISBN 978-1-4634-0007-1
Paperback retail price: $16.86
About the author
Ricky Mickiewicz was born and raised in Chicago. He spent time living in Kailua-Kona, Hawaii, and is now living back in Chicago where he currently works as the Clerk of the Circuit Court of Cook County. In addition to entering short stories contests, Mickiewicz also showcases his art all around the world.
**FOR IMMEDIATE RELEASE**
EDITORS: For review copies or interview requests, contact:
Jessica Kiefer
Tel: 317.602.7137
Fax: 317.536.3775
Email: jkiefer(at)bohlsenpr(dot)com
(When requesting a review copy, please provide a street address.)
###