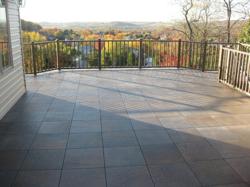 As an engineer, I was immediately impressed with the concept.
Waynesboro, Pennsylvania (PRWEB) September 01, 2011
A single family home in beautiful southern Pennsylvania was receiving some updates and an addition. Part of this renovation project was a new second floor deck, optimizing the valley view. The owner, a structural engineer, and his wife, wanted a finished exterior deck with low maintenance and character.
He began researching all types of deck and decking materials but they all fell short of their requirements for form and function. They process uncovered horror stories about splintered wood, moldy composite, and scratched PVC decks. He had just about given up on a low maintenance deck when he came across the GratedeX® Outdoor Floor System™. "As an engineer, I was immediately impressed with the concept". This DexSystems® flooring underlayment had the structural ability to support tile without the traditional mud-set or thin-set application methods. The idea of having a porcelain tile deck or thin gauged natural stone deck meant "we had endless options to customize the look we wanted" for the finished floor surface. And the finished outdoor floor decking would be a durable, low maintenance deck for the cold Pennsylvania winters.
Framing for this elevated exterior deck was new construction. Pressure treated 2x12 were placed at 16" O.C. Joist size was increased from the required dimension to add greater stiffness and minimize any noticeable deflection.
This structural engineer was not afraid to know his product choice with DIY hands on installation. He found that laying the GratedeX® underlayment panels was very fast and easy. "They're simple to cut to size and to fasten down" to the framing. An aluminum railing was easily fastened over top of the GratedeX® underlayment with bolts passing through the GratedeX® underlayment panel openings and into the joist blocking.
Slate was the preferred choice by this engineer, but because of the requirement to seal natural stone, a porcelain tile that had a natural look in color and clefting was selected as the finished decking surface.
The deck has survived a Pennsylvania winter of snow and ice, a spring of continuous rain and one of the hottest, driest summers on record. "It looks like the first day we laid the tile" summarizes this structural engineers opinion. "No cracked tiles, no loose tiles, and no scratches (12 chairs, 2 kids and a quite a few friends running around). While the initial cost is higher than most other deck options out there, we consider this a long term investment. If the first year is any indication, this deck surface will outlast both of us and will allow us to enjoy using our deck instead of constantly maintaining it."
###