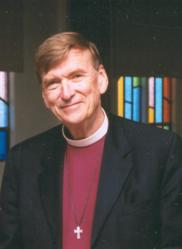 Cambridge, MA (PRWEB) September 01, 2011
Episcopal Divinity School is pleased to welcome the Rt. Rev. John Shelby Spong, Episcopal Bishop of Newark before his retirement in 2000, as the 2011 lecturer for the annual Fall meeting of the Saint John's Society. Bishop Spong will present a public lecture entitled "Shifting the Paradigm—From Rescue to Expanded Life," at 2:00 pm on Friday, October 21, 2011 in Saint John's Memorial Chapel on the campus of Episcopal Divinity School, 99 Brattle Street, Cambridge, Massachusetts.
As a visiting lecturer at Harvard, and at universities and churches throughout North America and the English-speaking world, Bishop Spong is one of the leading spokespersons for liberal Christianity. His books include Eternal Life: A New Vision; Jesus for the Non-Religious; Sins of Scripture; A New Christianity for a New World; Rescuing the Bible from Fundamentalism; Resurrection: Myth or Reality?; Why Christianity Must Change or Die; and his autobiography, Here I Stand. He has initiated landmark discussions of controversies within the church and has become an outspoken advocate for change. Visit the author online at http://www.JohnShelbySpong.com.
To honor Bishop Spong and the Saint John's Society, the Very Rev. Dr. Katherine Hancock Ragsdale, President and Dean, will host the Dean's Tea and Book Signing with Bishop Spong in Washburn Lounge from 3:00 – 4:00 pm. Evensong will be celebrated in Saint John's Memorial Chapel from 5:30 – 6:00 pm.
As space is limited for the event, registration is required, and opens Thursday, September 1 and closes Monday, October 17. To register, click the Events link at http://www.eds.edu. Cost for the 2:00 pm lecture is $25 for members of the public and $20 for EDS and Lesley alumni/ae. There is no charge for EDS, BTI, and Lesley faculty, staff, and students. For further information or questions, contact Lauren Johnson at ljohnson(at)eds(dot)edu or 617.682.1546.
These events are being held in conjunction with a celebration for Episcopal Divinity School's Saint John's Society. The Society embodies a three-fold ministry that is fundamental to theological education: Spirituality, Learning, and Stewardship. Together, these three aspects of a person or parish's commitment to EDS embody a Rule of Life by which Society members seek to live out their vital role in providing new generations of leadership for the gospel of Jesus Christ. For information about membership in the Saint John's Society, contact Kelly Feeney at kfeeney@eds.edu or 617.682.1542.
Episcopal Divinity School was founded in 1974 from a merger of Philadelphia Divinity School (founded 1857) and Episcopal Theological School (founded 1867). Both schools were noted for their progressive teaching, innovative pedagogy, as well as for being the first to welcome African Americans and women as full members of the community. Episcopal Divinity School carries on this tradition today with its focus on interfaith issues and the practical aspects of providing ministerial leadership in this critical area. Located on an eight-acre campus just a few blocks from Harvard Yard, EDS is a member of the Boston Theological Institute, a consortium of ten eminent theological schools, seminaries, and departments of religion.
###