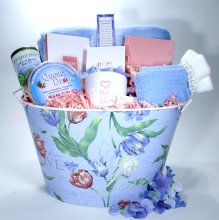 'Cancer' is just a word like 'Friendship'. Get comfortable with it so you can support and comfort your friend.
Manchester, MA (PRWEB) September 06, 2011
Recognizing that supporting a friend with a breast cancer diagnosis is fraught with worry for all their family and friends, Healingbaskets.com, the most unique online gift retailer focusing of life challenges is now providing a one-stop resource for those struggling to show support to a friend or loved one going through breast cancer. The unconventional "baskets" can either be built to order from hand-picked items chosen by the on-line consumer, or picked from a large selection of spirited pre-made baskets.
"Nobody really teaches us what to do in these situations," says Caroline Cheshire, founder of healingbaskets.com. "Cancer is just like any other 'unknown'. Ignorance is often our downfall. Even though our hearts are in the right place, we are often so worried about saying or sending the wrong thing that we hesitate'. The message we unwittingly send is that we don't care when in fact the opposite is true."
"Being a friend takes work and means listening rather than talking", notes Cheshire. Healingbaskets.com, with its broad assortment of gifts for women with breast cancer also offers a resource called 'Healing Words and Links' to take the guesswork out of showing support. "People who visit our website will likely find things they had never thought of sending or saying to a friend dealing with breast cancer. We have collected 'what to do's' and 'what not to do's' from those who have walked the walk. Our mission is to empower our customers to give the best and most appropriate support they can give".
Consumers can design their own "basket" or order newly designed breast cancer baskets titled 'Healing in Progress', 'Breast Cancer Warrior', 'Circle of Friends', 'Keep The Faith', and 'Courage Doesn't Always Roar' basket amongst others to bring attention to the cause.
"Traditional gifts like flowers and food items often only fulfil the needs of the sender. They don't offer practical help or real words of support when you're facing the unknown" adds Cheshire. "Knowing that a friend gets it, understands even a little of what you're going through makes that journey a little less scary, a little less alone. That's why I started healingbaskets.com. No one should have to go it alone."
For the month of October, breast cancer wareness month, Healing Baskets will donate an additional 10% of profits to breast cancer research.
Healing Baskets was launched in September 2003.
The website address is http://www.healingbaskets.com.
Click here for Breast Cancer http://www.healingbaskets.com/breast-cancer-gifts.htm
CONTACT:
Caroline Cheshire
Healing Baskets, Manchester, MA
888-960-4325
caroline(at)healingbaskets(dot)com
###