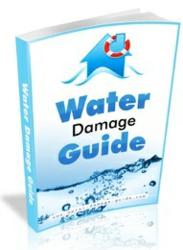 Affected by Water Damage? - This Free, 43 page eBook about Water Damage restoration will help you out!
(PRWEB) September 01, 2011
Den Bosch, Noord-Brabant, August 26, 2011, Water-Damage-Guide.com announces the debut of a free eBook, entitled "Water Damage Guide" It's a 43 page free eBook about water damage restoration, how to deal with restoration services or DIY do-it-yourself cleanup. "Water Damage Guide" is now available to download for free at water damage guide
The author of this eBook, Mark den Bosch, foresaw the need for such a publication when he realized that there were a large number of people who didn't know whether they needed to contact a water damage restoration service or if it was possible to cleanup the damage by themselves. Then he decided that this eBook would be a timely answer to their need.
The eBook guides people step-by-step through the process of cleaning and restoring their water damaged elements. It identifies water damage types, and the surfaces and restoration services that are available. Additionally, it gives the top ten tips for dealing with water damage. It explains people what to do when they first notice the water damage to the kind of insurance that you can take for various types of water damage.
Mark den Bosch said: "We choose to give this eBook for free, but we ask for a small thing in return." People can download it for free in exchange for a Tweet announcement or Facebook Like.
The eBook provides helpful tips, tricks and detailed information for homeowners and business establishments who would like to prevent water damage. The owner of the eBook has developed a methodology that addresses the water damage issues, and helps homeowners overcome the hurdles that usually trip them up when they are trying to go for water damage repair.
###