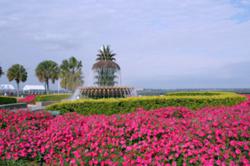 (PRWEB) September 01, 2011
Indigo Inn and Meeting Street Inn are gearing up for the Fall Tours of Homes and Gardens in downtown Charleston's historic district. The event, celebrating its 35th year, runs from September 22nd through October 23rd, 2011. This five week event spotlights tours of intimate gardens and architecturally significant private homes, churches and public buildings littered through the historic streets of downtown Charleston, South Carolina.
Charleston gardens have been internationally-renowned since the 1700's showcasing exotic blooms and fragrant trees that lived in obscurity in remote areas of the world flourished with new-found fame in Charleston, most notably the flowering evergreen from China renamed Gardenia in 1754 and the unusual fire plant brought home from Mexico by Charleston resident Joel Poinsett, for whom the new name Poinsettia has become an American classic.
Some of the highlights of the architecture that can be found in downtown Charleston include:
The Nathaniel Russell House at 51 Meeting Street is one of the city's most splendid house-museums. Built of brick with white stone trim, the 1811 three-story home boasts a rising spiral staircase and oval drawing rooms.
The Col. Robert Brewton House at 71 Church Street is one of the earliest surviving examples of the Charleston single house, dating back to 1721. This brick structure was covered with a layer of ornamental stucco, another common architectural technique in colonial Charleston which helped reduce the absorption of water from rain and humidity.
Tickets for the event are $45 and a special three day weekend rate is only $120. For more information about the event and a full listing of street tours contact the Preservation Society of Charleston. Indigo Inn and Meeting Street Inn are within walking distance of the event in the heart of Charleston's downtown historic district. For more information on their luxury inns' package deals and bed and breakfast accommodations contact them at 1-800-845-7639 or 1-800-842-8022, or visit them on the web at indigoinn.com and meetingstreetinn.com.
###