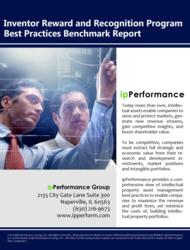 "non-monetary" awards had a much higher R&D Return on Investment (patent applications per Research Development & Engineering dollar) that was 325% higher than those that use "monetary" awards." says Robert Williamson
Naperville, IL (PRWEB) September 07, 2011
ipPerformance Group, a leader in benchmarking corporate intellectual property asset management operations announces the release of its 2011 Inventor Reward and Recognition Program study.
"76% of companies provide both monetary and non-monetary awards for invention ideas. Of those companies, 47% indicated that monetary incentives and 14% indicated non-monetary are more effective awards – over a 3 to 1 ratio! Yet we found that the companies that use "non-monetary" awards had a much higher R&D Return on Investment (patent applications per Research Development & Engineering dollar) that was 325% higher than those that use "monetary" awards," says Robert Williamson, president at ipPerformance Group.
The second study, "Survey on Inventor Reward and Recognition Programs", was conducted among 136 intellectual property (IP) leaders representing 24 major industries. 113 survey participants who indicated that have a program were questioned on a range of topics, including incentive program structures including financial and non-financial awards, special awards, award effectiveness and program management.
The inventor reward and recognition study reports on the types of recognition and actual financial amounts being used for Invention Disclosure, Initial patent filings, Patent grants, Trade Secrets, Defensive Publications, Provisional Patent Applications, and Licensed-in Technology.
136 companies have participated in this study including Weatherford International, Sasol, Cargill, Eastman Kodak Company, USG, Pitney Bowes, Caterpillar, The Clorox Company, Delphi, Motorola, DSM Desotech, Praxair, Trimble, Polaris Industries, and Cummins.
A full report of the survey findings and 13 major industry subgroup analysis reports are available at ipPerformance Group's website, ipperform.com.
Other key findings:
Overall financial awards are down 25% from 2008, the initial patent filings award amount median is down from $1000 to $700, invention disclosures from $250 to $200.
Companies report that the top three reasons for incenting inventors are to maintain inventor interest, increase invention disclosures, and to gain better cooperation and responsiveness to patent questions.
Companies that indicated innovation is one of the top priorities are at least 60% more "patent efficient," across industries.
52% of the companies that have an Inventor Reward and Recognition Program indicated they have no rewards or incentives for an invention disclosure.
Other intellectual property asset management subjects surveyed include intellectual property management strategy and performance metrics; litigation and enforcement; training and education; open innovation; open source governance; patent analytics; intellectual property department operations; trademark strategies and practices; and licensing management.
ipPerformance Group, Inc. (http://www.ipperform.com) is the leading intellectual property advisory and benchmarking firm. Drawing on the knowledge of over 350 intellectual property management benchmarks of the Global 2000 companies, we help our clients solve complex intellectual property business problems and measurably enhance their ability to build value, manage risk and improve performance in an intellectual property–driven world.
# # #