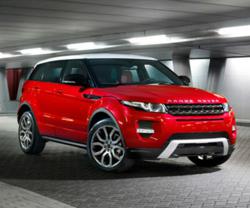 "It's the most fuel-efficient Land Rover we've ever sold," Smith said.
Glenwood Springs, CO (PRWEB) September 01, 2011
Land Rover Roaring Fork, the largest volume Land Rover dealer in Colorado, is honored to be showing the new Range Rover Evoque at this week's upcoming Jazz Aspen Festival. Land Rover Roaring Fork Center Manager Vince Smith will be publicly unveiling the Evoque at the Jazz Aspen Snowmass Labor Day Festival on September 2 - 4. The public is encouraged to attend Jazz Aspen and be one of the first in the nation to see Land Rover's newest addition to the Range Rover line of automobiles. Jazz Aspen is open from 5 p.m. to 11 p.m. on Friday, September 2 and from 1 p.m. to 8 p.m. on Saturday and Sunday, September 3rd and 4th.
Smith is impressed with the Evoque, noting that it maintains Land Rover's traditional core values of providing premium levels of craftsmanship, luxury, performance and renowned Land Rover multi-terrain capability. The Evoque also incorporates features that will appeal to the modern consumer's concerns for a more sustainable vehicle. As the smallest, lightest Range Rover yet, it still delivers on advanced technology while reducing fuel consumption and CO2 emissions. "It's the most fuel-efficient Land Rover we've ever sold," Smith said.
In a separate event, Land Rover Roaring Fork is hosting an invitation-only Evoque Launch on September 12, 2011 at their dealership in Glenwood Springs, CO. This "cocktails and hors d'oeuvres" preview event will give potential customers time to explore the Evoque, ask questions, and schedule a test drive beginning the following day, September 13. To attend the Evoke Launch, please e-mail Smith for an invitation at vsmith(at)LandRoverRoaringFork(dot)com.
Land Rover Roaring Fork is currently taking orders for the Evoque with delivery dates for their dealer inventory expected to arrive in October. They already have pre-sold several Evoques out of their initial inventory arriving soon. Customers have the option of customizing an Evoque to their exact specifications at http://www.landrover.com/us/en/rr/range-rover-evoque/build/.
About Land Rover Roaring Fork
Established in 2002, Land Rover Roaring Fork is the largest volume Land Rover dealership in Colorado. With an experienced sales team, an expert finance department, and knowledgeable automotive technicians, they have helped thousands of consumers become proud Land Rover Range Rover owners and lessees. As a member of the Prestige Auto Group, which is the 20th largest dealership group in the United States, Land Rover Roaring Fork is a sister store to Prestige Land Rover of Paramus, the largest Land Rover dealership in the world.
Media Contact:
Vince Smith
970-928-6014
888-348-9325
vsmith(at)LandRoverRoaringFork(dot)com
http://www.landroverroaringfork.com
###