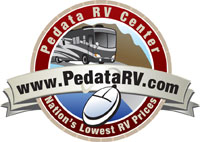 We were happy with the initial response to the blog, and continue to see increased interest as more topics are explored
Phoenix, Arizona (PRWEB) September 15, 2011
Pedata RV Center increases frequency of blog posts regarding RV lifestyle. The popularity of blogs as a social media may have decreased, but their popularity as a source of easily accessible information on specialized topics has increased.
In response to user demand, Pedata RV Center has increased the number of specialized topics that are discussed in detail on the blog. The Pedata RV Center blog is open to the public for comments, and users are encouraged to both comment and leave questions. Administrators frequently join in the conversation and attempt to provide answers to posted questions.
Individuals interested in the RV lifestyle can now access the blog for answers and conversations on even more topics related to life with a motorhome.
Gerard Pedata of Pedata RV Center said, "We were happy with the initial response to the blog, and continue to see increased interest as more topics are explored. We plan to continue to increase the amount of information dispersed through the Pedata RV Center blog, and plan to continue interacting with interested consumers through this medium."
Pedata RV Center sells used RVs, travel trailers, fifth wheels, campers and motor homes. Their full inventory is accessible online, and due to their low overhead costs they are able to offer competitive pricing in their industry. Easy access to industry and recreational vehicle information allows consumers to have access to the specific knowledge they need to ensure their purchase results in long term satisfaction.
For more information on Pedata RV Center, or current trends in the RV industry visit Pedata RV Center online at http://www.pedatarvcenter.com or contact Gerard Pedata:
Contact: Gerard Pedata
Company: Pedata RV Center
http://www.PedataRVCenter.com
Phone: 1-888-545-8314 or 520-807-0900
Email: sales(at)pedatarvcenter(dot)com
###