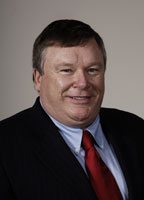 This is the most significant whistleblower decision in the history of the law.
Seattle, WA (PRWEB) September 07, 2011
Attorney William Jungbauer, president of the injury law firm of Yaeger Jungbauer & Barczak, PLC filed a federal whistleblower complaint in 2009 against the BNSF Railroad Company on behalf of employee Jeannette Wallis. Ms. Wallis injured her knee at work and the United States Department of Labor recently ruled that her employer BNSF harassed her because of it. The OSHA ruling also called into question BNSF's disciplinary practices, in the matter of BNSJ Railway Company/Wal0-1960-09-022.lis/.
BNSF was ordered to pay $140,000 in punitive damages—the highest award under the new whistleblower laws thus far—$125,000 in compensatory damages, Ms. Wallis's legal fees, and 30 days of back pay, according to the ruling, explained in a letter August 15, 2011 from Occupational Safety & Health Administration (OSHA) regional administrator Dean Y. Ikeda. The decision came from the U.S. Department of Labor and was based on findings of an investigation ordered by Secretary of Labor Hilda L. Solis.
"This is the most significant whistleblower decision in the history of the law," William Jungbauer said.
According to the ruling, Ms. Wallis was intimidated and harassed by BNSF for sustaining an injury reportable to the Federal Railroad Administration (FRA). Hospitalized after her knee injury, BNSF officials tried repeatedly to enter her room to question her, the ruling said, and were finally ejected by hospital security. This behavior, along with other acts including filing disciplinary charges against Ms. Wallis in absentia, refusing to allow her to return to restricted duty and suspending her for 30 days without pay thereby endangering her home mortgage, caused psychological and emotional pain coupled with the physical chronic pain of her injury, the ruling said.
The FRA requires such injuries be reported, so the larger issue in this decision was the railroad's policy regarding injured workers, the ruling said. According to the BNSF "Points" policy in place at the time, sometimes referred to as "Risk Identifier Points" under their PEPA program, employees who received reportable injuries were assessed 40 points—the largest allowable number—and could be placed in an Employee Review Process as a result. Many injured workers are also suspended without pay or terminated if they sustain additional injuries. These policies were the basis of Ms. Wallis's whistleblower complaint.
According to the Secretary of Labor's findings, BNSF's policies violated the Federal Railroad Safety Act. In addition to payment of monetary awards, BNSF was ordered to expunge Ms. Wallis's personnel records of any mention of disciplinary action and to post the OSHA fact sheet, "Whistleblower Protection for Railroad Employees," in conspicuous places where it could be seen by employees.
"BNSF was directly scolded by Chairman Oberstar of the House Transportation and Infrastructure Committee in 2007 about the harassment effects of the PPI points system," said Jungbauer.
About Yaeger, Jungbauer & Barczak
The law firm of Yaeger, Jungbauer & Barczak has officers around the country to represent individuals in personal injury claims involving FELA, railroad accidents, products liability, negligence, aviation & automobile accidents. The law firm has helped injured people, railroaders and their families at some of the most difficult times of their lives for more than 75 years.
The firm has a national reputation for success representing railroad workers injured on the job and seeking compensation under the Federal Employers' Liability Act (FELA). Recognized as one of the premier FELA firms, Yaeger, Jungbauer & Barczak has handled thousands of FELA cases and related actions under the Federal Safety Appliance Act (FSSA) and the Federal Locomotive Inspection Act (LIA). The firm's personal injury attorneys represent injured railroaders in state and federal courts in more than 40 states.
For more information, visit the Yaeger, Jungbauer & Barczak website.
###