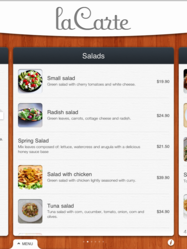 Sao Paulo, SP (PRWEB) September 01, 2011
Tapps presents laCarte, the new iPad application that holds all the benefits of a digital menu in the tablet. The application can be downloaded directly from the App Store and, once installed, is ready to use. All design customization and product management is done directly through the iPad screen.
Combining a beautiful design with an easy to use interface, laCarte is a solution intended for hotels, bars and restaurants searching for an innovative tool to present meals, beverages, wines and more.
It just takes a few touches to add or remove products, change prices, descriptions or photos. Unlike the traditional paper solution you can change any details in your digital menu at anytime, such as the availability of meals without reprinting costs. Furthermore there is no limit for the number of categories, products or photos you can add to your digital menu.
Regardless if your establishment is a traditional bistro or a big restaurant chain, laCarte is the solution to quickly introduce the iPad to your customers and create a unique experience by offering a sophisticated and innovative way to present your products.
Unlike most available solutions, laCarte does not include any hidden costs besides Apple's App Store one-time fee of $19.99. Once you download the application, you can manage your menu from the iPad without the need of other computer or online server.
Device Requirements

iPad or iPad 2 (Wi-Fi or Wi-Fi + 3G)
iOS 4.0 or later
16.6 MB
Pricing and Availability
LaCarte is available worldwide and can be purchased for $19.99 exclusively through Apple's App Store at http://itunes.apple.com/app/id449460217.
Aditional Information
For additional information about laCarte, including screenshots, please visit http://lacarte.tapps.com.br.
###