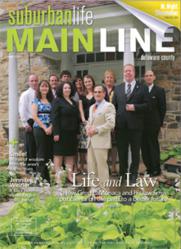 "Next to perhaps fighting for a client on death row, there is no more serious matter than fighting for children in Custody matters."
Media, PA (PRWEB) September 01, 2011
Suburban Philadelphia Divorce Lawyer, Gregory P. LaMonaca, appears along with his entire firm on the cover of the July, 2011"Suburban Life Main Line" magazine, wherein is a featured profile article entitled "Brutally Honest." The article explains LaMonaca's distinctive approach to life and the law which puts his client's on a path to a better future.
LaMonaca is also featured in the August 2011 "Top Lawyer's" edition of the "Main Line Today" magazine. Out of 250 Pennsylvania Lawyers chosen, 15 were selected as the best attorneys in 15 specialties. LaMonaca was chosen in the category of "Top Divorce Lawyer" where he is featured and quoted as saying, "Next to perhaps fighting for a client on death row, there is no more serious matter than fighting for children in Custody matters."
LaMonaca's distinctive philosophy which he has been using with his client's for 17 years has been captured in a book he wrote entitled the "Brutally Honest Life Management Journal." The book was coauthored by former custody client and friend, James H. Grim, Jr. The book outlines the process to allow the reader to partake in a self guided journey to reconnect to what matters most to them. The book also features a year in the life taken from Mr. LaMonaca's personal journal as he battled and overcame paralysis which has formed the cornerstone of his passion, dedication, focus and commitment to his client's, and their children, to assist them overcome the substantial pain, fear and obstacles that stand between them and a compelling future.
All of the articles referenced above, excerpts from his book, as well as many other articles where Mr. LaMonaca appears, can be seen on LaMonaca's website at http://www.LamonacaLaw.com.
Mr. LaMonaca is the founding member of the six attorney firm located in Media, Delaware County, Pennsylvania. 610-892-3877.
###