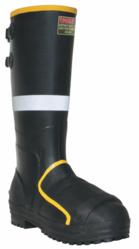 "Tingley Rubber's Metatarsal Boot is designed to combine comfort and safety. More comfort means more compliance," says Marketing Manager Jim Towey.
South Plainfield, NJ (PRWEB) September 01, 2011
By the end of an active work day, a worker's feet may have supported the equivalent of several hundred tons. Since feet are small compared to the rest of the body, they absorb tremendous force with every step.
When one considers how hard feet have to work, it is not surprising that there are as many as 120,000 work-related foot injuries resulting in about two million sick days each year.
"Too often workers' feet get injured because they don't wear the proper protective footwear especially in mining, manufacturing, and construction," says Jim Towey, Marketing Manager for Tingley Rubber Corp. "The usual reason we hear workers give is that the protective shoes are uncomfortable. That is why we are introducing a new rubber metatarsal boot that is 100% waterproof, flexible and comfortable in the toughest of work environments. We believe it is the most advanced metatarsal rubber boot available today. It protects your whole foot including the vulnerable metatarsal bones."
Broken metatarsal bones are one of the most common foot injuries on the job. Metatarsal bones are the five long thin bones of the foot that connect to each one of the toes. Metatarsals are a common source of acute or stress fractures - often due to twisting injuries or direct impact such as something heavy falling on one's foot.
Tingley's floating metatarsal guard is flexible, which provides greater comfort when bending, kneeling and crawling. The rubber metatarsal boot also has an internal support system for the heel and ankle that helps reduce injuries when walking on uneven terrain.
The boot features a buckle closure system instead of laces, so workers can adjust fit easier and reduce contamination risk. The rugged tread design provides excellent traction to prevent slipping. Its polyurethane insole absorbs moisture and shock for all day walking comfort.
Made from ozone resistant rubber to prevent premature cracking, Tingley's 100% waterproof 16-inch boot provides metatarsal, steel toe and puncture resistant protection that meets ASTM F 2413-05 M/I/75/C/75 Mt75 PR EH as specified by the Occupational Safety and Health Administration (OSHA).
"Safety protection only works if workers are willing to wear it, " says Towey. "We looked at every aspect of the boot to make it as comfortable as possible from flexibility to foot bed comfort and ankle support. The more comfortable the safety footwear, the more willing workers are to wear it all day, thereby increasing their safety."
For over 100 years, Tingley Rubber Corporation has been a leader in the manufacture of protective footwear and clothing. Visit http://www.TingleyRubber.com for more details about preventing foot injuries with its new rubber metatarsal boot.
###