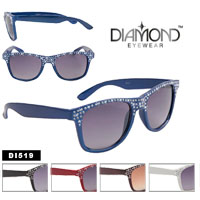 Wayfarer Sunglasses Are Back In Style!
Salem, OR (PRWEB) September 01, 2011
CTS Wholesale Sunglasses, a major wholesaler and 'compare to' eyewear manufacturer and retailer, has launched many new styles of wayfarer sunglasses. The primary aim of this launch is to focus on best sellers and for customers to enjoy wayfarer sunglasses, which are back in style. Some of the wayfarer sunglasses featured at CTSWholesaleSunglasses.com come in unique colors and designs so that it remains a hot favorite for several years.
CTS features wayfarer sunglasses to suit just about everyone. From funky sunglasses, to elegant designs, to the classic and the intellectual shades, the shop has it all. Blending fashion with functionality, the sunglasses at this firm have UV 400 protection. This ensures that the shades block UVA and UVB rays completely. Furthermore, the designer 'compare to' sunglasses come packaged in a signature display box.
In addition to wayfarer sunglasses, the firm offers cat eye shades, DE Designer eyewear, XSportz, gemstone, poker, polarized and rhinestone sunglasses. The website also hosts sports and shutter shades, Fleur de Lis sunglasses, camouflage, vintage and buckle style shades. The huge inventory of CTS Wholesale Sunglasses also includes wholesale lighters which are oil proof, refillable and made of metal. The website also offers wholesale caps, including hunting, fishing caps and Native Pride caps.
CTS Wholesale Sunglasses also offers various sunglass and lighter accessories – micro fiber bags, cleaning cloths, gloves, straps, pouches, soft and hard cases. The sunglass cases are available in a plethora of colors and designs. All orders between $500 and $2000 or more enjoy discounts of 10 to 20 percent. The discounts are automatically calculated when the buyer is at the checkout point.
Some more information about CTS Wholesale Sunglasses: Being in the sunglass manufacturing and selling industry for more than 20 years, CTS vouches to understand potential customers' business better than most providers. The company is a direct importer and offers high quality sunglasses for very reasonable prices. Its sunglasses range includes poker, polarized, reading, sports, men's, women's, vintage and many others.
###