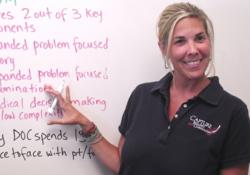 The changes in diagnosis coding and the transition from ICD-9-CM to ICD-10 is going to be exciting!
Loudoun County, VA (PRWEB) September 01, 2011
Capture Billing & Consulting, Inc. (http://www.CaptureBilling.com), a national medical billing company located in South Riding, Virginia, is proud to announce that Katie Jennings, will be presenting at the Leesburg Virginia Chapter of American Academy of Professional Coders (AAPC) on Wednesday, September 7, 2011. Mrs. Jennings will be discussing the importance of medical terminology for the ICD-10, scheduled to be released in 2013.
The U.S. Department of Health and Human Services (HHS) has authorized the International Classification of Dieases (ICD-9-CM) currently used by medical billers and coders for health care diagnoses and procedures to be replaced by ICD-10 on October 1, 2013. Once implemented, ICD-10 will require more detail and knowledge with medical terminology.
ICD-10 has eliminated the most unspecified diagnoses; the few that remain will most likely not get paid by insurance companies. Coding to the highest level of specificity has now been taken to a whole new level and every specialty will be impacted. It will be imperative for medical coders, medical billers and other healthcare professionals to read and understand medical documentation, chart notes, medical abbreviations and patient disease processes.
"The changes in diagnosis coding and the transition from ICD-9-CM to ICD-10 is going to be exciting! The coder/biller must have a strong foundation in anatomy and physiology, disease processes, pathology and medical terminology," says Jennings.
Along with being an employee at Capture Billing, Katie currently teaches a variety of medical billing and coding classes at the Loudoun Campus of Northern Virginia Community College. Her in-depth knowledge of medical terminology, medical billing, medical coding and medical collections has made Katie an expert in her field.
To learn more about ICD-10 and other medical billing and coding topics subscribe to Capture Billing's Medical Billing and Coding Blog at http://www.CaptureBilling.com/blog .
ABOUT CAPTURE BILLING
Capture Billing and Consulting, Inc., a leader in the outsourced medical billing services industry, offers one of the most cost effective outsourcing solutions to healthcare professionals available. By eliminating the need of an in-house medical billing staff, Capture Billing's staff of expert medical billers and certified professional coders help to increase physician reimbursement by improving collection rates and ensuring proper ICD-9 and CPT coding, and soon will offer ICD-10 training. Practicing physician and CEO, Dr. John D. Farrell, Jr., formed Capture Billing in 2004 as the answer to one of the largest concerns physicians face today, how to receive proper insurance imbursement for services they provide.
CONTACT INFORMATION
Capture Billing & Consulting Inc.
25055 Riding Plaza, Suite 160
South Riding, VA 20152
(703)327-1800
Contact: Manny Oliverez
Website: http://www.CaptureBilling.com
Pressroom: http://www.capturebilling.com/medical-billing-newsroom/press-room/
# # #