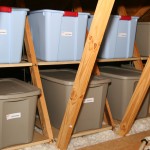 I used to have to un-stack boxes piled to the ceiling in order to find the box I wanted, which was usually at the bottom of the pile and crushed! Now I can get to my stuff so easily.
Raleigh, NC (PRWEB) September 13, 2011
The new AtticMaxx™ Shelving System is a first-of-its-kind product specially designed for homeowners and renters who need more or better organized space in their attic and easy access to stored items. This innovative shelf system is uniquely designed to mount between attic trusses -- the triangular wooden structures used to support a pitched roof -- in order to create vertical storage space around an attic floor. The system works in almost any attic with a truss system.
The patent-pending AtticMaxx Shelving System is sold in sets of eight shelving units. Each unit includes a 22" x 22" solid wood shelf, a pre-attached metal bracket and two pre-attached straps. The shelves install in minutes using only a screwdriver, a level and four screws. At a retail price of $169.95 per eight-shelf set, the product can be purchased online at AtticMaxx.com. The product is also available at the following online retailers: Amazon.com, OrganizedAtoZ.com, StacksAndStacks.com and Sears.com. Smaller-sized shelves for mounting on unfinished walls of garages, basements, bonus rooms and outbuildings are also available on AtticMaxx.com.
"This new product is brilliant!" says Certified Professional Organizer® Kathy Jenkins of Come to Order in Virginia and member of the National Association of Professional Organizers(NAPO). "So many of my clients dread going into their attics because of the mess. AtticMaxx is finally going to help them tackle their attics and get organized."
Amy Martin of North Carolina says AtticMaxx helped her get organized. "I used to have to un-stack boxes piled to the ceiling in order to find the box I wanted, which was usually at the bottom of the pile and crushed! Now I can get to my stuff so easily. And the best part is that it took me under an hour to install the shelves using only a cordless screwdriver – this project was a no-brainer!"
How AtticMaxx Works
The shelf units install with a screwdriver and three easy steps:
1) Position the shelf at any height between two trusses.
2) Secure the metal bracket to the trusses with a screw on each side.
3) Secure the straps to the trusses with a screw on each side. Most any size storage container or box (not included) up to 50 lbs can be placed on the shelves.
Phil Warren, a mechanical engineer, explains the significance of the design of the AtticMaxx Shelving System. "The space between attic trusses is relatively standard, so the AtticMaxx shelves will fit between virtually all attic trusses. However, the angles of trusses vary widely from house to house. The unique adjustable straps and swiveling metal bracket of the AtticMaxx system allow the shelves to be leveled between trusses at different angles and are key to the product's flexibility and universal utility."
Homeowners want more space
A top complaint of many homeowners with clutter is that they don't have enough space. However, according to a survey by the American Cleaning Institute, about 80 percent of clutter in the home is the result of disorganization, not lack of space.
"The majority of people have plenty of space, they just aren't using the space wisely or efficiently," explains Perri Kersh, a professional organizer, owner of Neat Freak, and member of NAPO. "The attic, for example, is an ideal place for storing certain infrequently used items such as holiday decorations and seasonal clothes because you can get those items out of sight and free up garages and closets for items you need at hand. However, it's important that items stored in the attic are still easy to access when you need them. Otherwise, you'll get frustrated, feel stressed, and waste time trying to find the stuff you want to use. AtticMaxx is a great solution because it utilizes valuable vertical space that is otherwise wasted."
About AtticMaxx
Creator Shawn Brisendine is a father of four and a small business owner in Apex, NC. He came up with the idea for the AtticMaxx Shelving System because his wife, Susan, (whom he calls "a holiday decorating junkie") needed more and better organized space in the attic for her decorations. Shawn was challenged to come up with a simple and affordable storage system that could utilize the empty space beyond their tiny attic floor. He tried several prototypes and committed to the current design because of its limited use of materials and easy installation for virtually any homeowner as a quick DIY project.
The AtticMaxx Shelving System is a high quality, engineer-tested product manufactured in the USA that comes with a 100 percent money-back guarantee. Made of primarily wood and metal – the same materials used to build homes – the AtticMaxx Shelving System is designed to withstand the hot and cold temperatures of the attic, including the use of a special metal bracket to resist rust in humid conditions. Visit http://www.AtticMaxx.com for more information, before and after pictures, and testimonials.
###