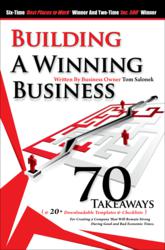 I hope the book's practical takeaways help any business owner or leader improve their firm or team.
Saint Paul, MN (PRWEB) September 04, 2011
Tom Salonek (http://www.TomSalonek.com), author of the book Building a Winning Business: 70 Takeaways for Creating a Strong Company during Good and Bad Economic Times, launches a leadership blog for managers and leadership.
"My goal with the blog was to share lessons learned from my 20 years in business and get ideas from others on leadership and management," shared Intertech Founder and CEO, Tom Salonek.
The "Tom Talk's" blog blends research from leading organizations like Harvard and MIT with field proven strategies and ideas found in the book Building a Winning Business. The blog covers multiple including leadership, strategy, hiring, and philanthropy.
About Tom Salonek and Intertech
Tom Salonek is the founder and CEO of Intertech, a Minneapolis-based technology consulting and training firm. In 2005, he was named one of Minnesota's Top Business Leaders under 40. Intertech has been named twice to INC 500's list of fastest growing companies, and is also a seven-time winner of the Business Journal's Best Places to Work award. In 2003, Salonek founded the Intertech Foundation to financially assist families with critically ill children.
Tom Salonek has completed executive education at the Harvard School of Business and the Massachusetts Institute of Technology and is a past instructor at the University of St. Thomas Management Center. He holds a degree in Computer Science from the University of St. Thomas. Salonek has written more than 50 articles on business, leadership and technology, and blogs regularly on his Leadership Blog and is the author of the book, Building a Winning Business.
###