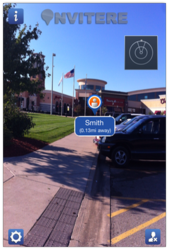 Gather up and have fun
West Des Moines, Iowa (PRWEB) September 08, 2011
iapps24, developers of applications for mobile devices such as iPhone, Android and Blackberry, launches its latest app Invitere. Invitere enables a customer to send friends his/her current location with directions using a new feature by iapps24 called Augmented Reality.
In an Augmented Reality setting, the mobile phone app uses a live, physical view of a real-world environment and integrates with GPS data, and with one touch, friends are able to locate each other at bars, restaurants, or other points of interest.
Chief Operating Officer of iapps24, Jay Namboor, says, "Now, if your friend tilts the phone vertically, Invitere will launch Augmented Reality view showing your location in a much more fun and futuristic way!"
Giving directions to a specific location is made simple; neither user of Invitere needs to know the location address, and when opening an invite, he/she can tilt the phone to activate the Augmented Reality view and spot his/her friend.
Namboor continues, "This app makes sending invites to friends a piece of cake, and it is much more fun for a friend to locate you without either one of you knowing the actual address."
When using Invitere, the friend receives an email with a link. If he/she has Invitere installed, taping on the link will open the app showing both user locations on the map with an option to get directions from one place to the other.
Invitere for iPhone is currently 100 percent free of charge at the iPhone App Store. "Invitere is just all about fun and friends," Namboor adds.
iapps24 is also the maker of Pro-Share, an app that uploads photos and videos to social media sites in a single tap, and StepTrace, a personal tracking system used to track, share, locate and check-in on a mobile device.
For more information, visit http://iapps24.com/invitere.html and follow the company on Facebook.com/iapps24 or Twitter @iapps24 for updates and reviews.
About iapps24:
Co-Founded in September 2010 by Jay Namboor of Grapnel Mobile Inc., iapps24 is a team of developers experienced in the IT industry and focused on creating custom mobile applications for businesses of all sizes. Much of its experience working with various Fortune 500 companies on multiple projects provides iapps24 with a unique view of the development process. iapps24 is committed to offering exceptional service that is customer oriented, while also supplying a well-documented and clearly developed application.
Contact:
Jay Namboor
6905 Vista Drive
West Des Moines, IA 50266
Support(at)iapps24(dot)com
###