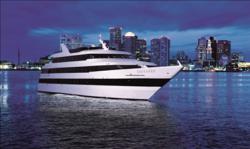 Brides dream about what their wedding will look like. We want to ensure that every wedding is unforgettable.
Boston, MA (PRWEB) September 07, 2011
Planning a wedding? From the wedding rehearsal to the reception dinner, the wedding shower and the bachelor party, there are multiple events that contribute to the perfect day. When the details become overwhelming, Odyssey Boston has the perfect solution.
Odyssey Boston, a 2011 winner in The Knot Best of Weddings, is a luxurious and sophisticated venue, perfect for any wedding event. Complete with elegance, distinctive dining, live music, stunning views and service unmatched by any venue in Boston, the Odyssey can help turn a wedding dream into a reality.
Highlights of a wedding aboard the Odyssey include;

Private deck or entire boat charters, designed to create a day of memories shared with friends and family.
Onboard wedding ceremonies available
Skyline views of the city of Boston offer the perfect backdrop for this unforgettable event.
Guests to order directly from the Odyssey Dinner Menu; choice of buffet, food station or seated service
Experienced Wedding DJs and Live Bands
Table Linens, China, and Crystal
Outstanding Staff designed to meet the needs of guests
In addition, each bride is assigned a personal wedding consultant who will work to create and implement a bride's vision, assist with outside vendors and help to ensure all details of the wedding go perfectly.
"Brides dream about what their wedding will look like. However, turning dreams into reality can be an overwhelming task," said Leah Kasten (Wedding Account Manager), Entertainment Cruises Boston. "We have a staff of wedding planners on The Odyssey who work closely with every bride and groom to create a custom and unforgettable experience on this special day. We want to ensure that every wedding is unforgettable."
Already have a wedding reception venue? Consider the Odyssey for a rehearsal dinner or shower. The Odyssey has private decks and rooms, scaled to fit any size party. A special Rehearsal Dinner Package is available, featuring a plated dinner menu, beer, wine, juice and soda bar along with live entertainment.
For more information about planning a Boston wedding event, please contact an Odyssey Wedding Specialist at 617.748.1499 or visit us online at http://www.odysseywedding.com. A photo gallery of Odyssey Weddings can also be viewed online at http://www.odysseywedding.com/boston/slideshow.cfm
About Entertainment Cruises
The Boston division of Entertainment Cruises (Spirit of Boston, Odyssey I and Seaport Elite) is Boston's original entertainment cruise provider, offering more than 35 years of experience in unforgettable dining, entertainment and sightseeing cruises. For more information, log on to http://www.entertainmentcruises.com or call 866-836-3463.
# # #