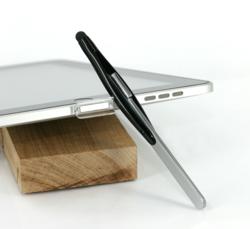 The XStylus Touch is well balanced and it writes smoothly and beautifully, like an expensive fountain pen. For $25, it's definitely worth every penny.
Hong Kong (PRWEB) September 01, 2011
The XStylus Touch transforms into a 14 mm wide-grip ergonomic iPad touch pen with a simple 180 degree rotation of its pen core. With the pen core made from iron alloy, the XStylus Touch weighs 32 grams, making it the heaviest iPad stylus on the market. The design of the silicon pen tip has been optimized for precision and sensitivity. The patent pending magnetic pen holder securely attaches to the charging port of the iPad 1 and 2, allowing the touch pen to "stick" to the iPad on the go.
Hong Kong based designer and founder of GreenBulb, Elton Leung, is raising funds for the production of the XStylus Touch on crowd sourcing platform, IndieGoGo. This all-or-nothing campaign features the glossy black and glossy white versions and it will run from now till October 16, 2011. First 200 funders can pre-order the XStylus Touch for US$15. Each XStylus Touch will be US$25 after that. Cost of worldwide shipping is included.
The XStylus innovative design won the bronze award at the Taipei International Invention Show & Technomart in 2010.
Product videos, fact sheet and photos: http://bit.ly/XT-Facts
About GreenBulb:
GreenBulb is an innovative company created in 2004 for the those who care about details, lifestyle and simple technology. Innovative products by GreenBulb include the XStylus Crayon for the Nintendo 3DS, Self-Shot Mirrors, and the Color Flash Cube.
About Elton Leung:
Elton Leung is academically trained as a mechanial engineer and holds a Bachelor of Applied Science and Engineering from the University of Toronto and a Master of Computer Science from the City University of Hong Kong.
###