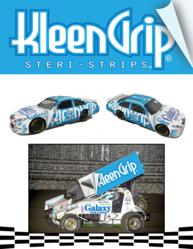 Combine the point of purchase market awareness that KleenGrip affords with race sponsorship at these levels and you have one of the most unique programs in the industry
Mooresville, NC (PRWEB) September 01, 2011
KleenGrip is promoting their Steri-Strip™ Shopping Cart Handle Protectors, which are designed to provide a germ barrier for Shopper protection combined with the added bonus of Discount Coupons for in-store products, on race cars in the ever popular NASCAR ARCA Series and the World of Outlaws Sprint Car Series. KleenGrip will field cars in both series under the KleenGrip banner while providing co-branding opportunities with the Retailers who carry the KleenGrip product at their doors and the Product Manufacturers who are featured on their Steri-Strip™ coupons.
The patented KleenGrip system is uniquely positioned to provide excellent branding opportunities for Product Manufacturers while satisfying the Shoppers desire to have a safe, clean cart handle. But what really makes this a winning concept is the inclusion of discount coupons for in-store items on the Steri-Strip™ germ barriers. Bill Barrett, Business Development Manager at KleenGrip, adds "not only does KleenGrip increase in-store Brand awareness with their Steri-Strip™ coupon program, but combine that point of purchase market awareness with race sponsorship at these levels and you have one of the most unique programs in the industry".
KleenGrip will also be providing "show cars" for exhibition at participating Retailer locations to help boost Shopper traffic, retail sales and brand awareness.
For more information on becoming a participating Retailer, or for CPG's interested in being featured on the Steri-Strip™ Coupons, contact KleenGrip and Bill Barrett at 888-965-5336, or visit http://www.kleengrip.com.
###