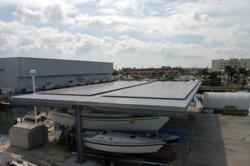 The solar system is a win/win for AAMC
Fort Lauderdale, FL (PRWEB) September 01, 2011
The solar system is a win/win for AAMC says Dan Longman, President of AAMC. The solar system provides for all our power needs and is installed on a 100'x60' steel canopy which provides covered boat storage for our clients. What is really cool is the excess power AAMC produces during daylight hours is fed back into the grid that results in a feed in credit from the utility.
AAMC is the first marina in Florida to install solar and power the entire facility with photo voltaic produced electricity. It just makes sense to use the Sun to make power in the Sunshine State.
The marina recently built 50 new boats slips and installed (6) In-Slip Vertical Boat Lifts. Each slip was built to accept an electric Boat lift so AAMC has the potential to install 50 boat lifts. The solar system produces enough power to supply the electricity requirements of as many boat lifts the marina installs.
Anglers Avenue Marine Center currently has 16,000 pound and 27,000 pound boat lifts available for lease. AAMC chose the Category 5 Gear Driven Yacht Lift from Hurricane Boat Lifts because of the quality construction. The gear drive system is completely sealed providing minimum maintenance for vessels up to 45,000 pounds.
You are invited to see the solar canopy at http://www.aamcmarina.com. AAMC is located½ mile west of the Ft Lauderdale/Hollywood International Airport on the Dania Cutoff Canal. You can reach AAMC at 954-962-8702 or email at info(at)aamcmarina(dot)com.
###