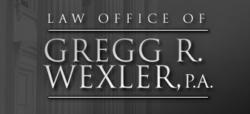 I have the experience and expertise to resolve your problems
West Palm Beach, FL (PRWEB) September 03, 2011
The Law Office of Gregg R. Wexler has launched a new television advertisement to help promote their reputation as a knowledgeable and experienced West Palm Beach bankruptcy lawyer. The firm provides legal services to a variety of clients, including those in debt, those who are considering filing bankruptcy, and those looking for a fresh start.
Their latest advertisement helps reassure prospective clients and remove the fear and uncertainty many feel about contacting an attorney.
Viewers will also learn how the experienced team at Gregg Wexler's West Palm Beach bankruptcy law firm can assist them with their legal issue. The firm has developed a solid reputation for handling the unique needs of each case personally, and they offer a free initial consultation to new clients.
"Financial issues can be overwhelming," Mr. Wexler stated. "Let me handle the stress of the situation. I have the experience and expertise to resolve your problems."
About The Law Office of Gregg R. Wexler
For more than two decades, Gregg Wexler has been providing cost-effective legal solutions to clients through the federal and Florida state legal systems. Founded in 1989, the Law Office of Gregg R. Wexler is a bankruptcy and personal injury law firm with offices in West Palm Beach and Port St. Lucie, FL. They also handle auto accident and foreclosure defense cases.
Serving clients throughout the state of Florida, the firm is dedicated to protecting the rights and interests of every client, whether through settlement or litigation. They know Florida law and can help ease the burden during the toughest times.
For more information about The Law Office of Gregg R. Wexler or to arrange your free initial consultation, contact the firm online or call 561-641-8020.
###