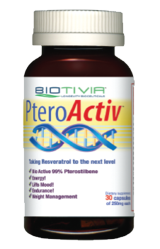 One advantage of pterostilbene is that the molecule remains active in blood plasma far longer than resveratrol and appears to strongly up regulate certain process that resveratrol only weakly affects
New York City, N.Y (PRWEB) September 02, 2011
Biotivia scientists announced today that the firm is making available a highly purified form of a molecule found in blueberries to the medical research community. The compound, called Pterostilbene, has shown remarkable potential to prevent and treat many of the diseases associated with aging and obesity.
Biotivia's PteroActiv is 99% pure pterostilbene. It was created to meet the rigorous requirements of medical researchers doing human clinical trials. It is a proven safe and healthful compound, and is also available to the general public as a dietary supplement.
The United Stated Department of Agriculture Research scientist stated "The more we study Pterostilbene, the more we see its huge potential in the human health field.
Biotivia has achieved substantial savings in the production cost of pterostilbene through its development of an advanced proprietary processing technology. This breakthrough will make pterostilbene much more affordable to researchers and other buyers.
Scientists now have an economical source of the purified molecule in capsule form. With the cost reduction and purity of PteroActiv it will now be feasible to undertake large scale human clinical trials of this remarkable blueberry molecule.
Biotivia is presently in discussions with a substantial number of medical schools and research institutions regarding the use of PteroActiv in clinical trials on diabetes, cognitive impairment, cholesterol management, and other conditions arising from obesity, aging and diet.
A spokesman for the company stated, "We would not be surprised to see health benefits identified in these trials which exceed those obtained from resveratrol. One advantage of pterostilbene is that the molecule remains active in blood plasma far longer than resveratrol and appears to strongly up regulate certain process that resveratrol only weakly affects. Certain other biological processes are enhanced more strongly by resveratrol so the ideal health strategy is probably to take both of these compounds together.
Biotivia's related product, Transmax, which is a purified form of the molecule called resveratrol found in grape skins, is already being used in human clinical trials at university major medical schools in the US, Canada, Europe, and Asia.
Results from these studies have been extremely positive and many of these clinical trials have progressed to the second stage with larger subject populations and extended time frames.
Biotivia is the leading pterostilbene supplier to the nutraceutical and functional foods industries and produces two pterostilbene supplements, PteroMax and PteroActiv.
The company was founded in Vienna Austria in 1994 and operates offices in New York, Los Angeles, Kansas City, Verona Italy, Palma Spain, Munich Germany, London, Singapore, China, and Taiwan. For futher information or inquiries contact Biotivia at info(at)biotivia(dot)com.
###