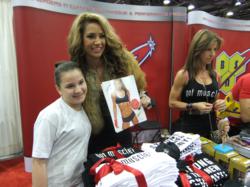 I'm thrilled to be reconnecting with my fitness friends, JNL FUSION fans, and all wellness enthusiasts at the Mr. Olympia at the BSN Booth. I am proud to be a BSN Sponsored athlete, working with the world's best fitness supplement company.- -JNL
Miami, Fl (PRWEB) September 01, 2011
JNL's management team has confirmed that Jennifer Nicole Lee will be at the world's largest fitness expo the [Mr. Olympia making a special celebrity appearance the in Las Vegas September 16th and 17th at the BSN Booth. Due to the urging of her fans, JNL will be autographing her "Mind, Body & Soul Diet Book" as well as her "Fitness Model Diet Book", and also selling her JNL Clothing line of signature tees, tanks and boy shorts at her table.
"I'm thrilled to be reconnecting with my fitness friends, JNL FUSION fans, and all wellness enthusiasts at the Mr. Olympia at the BSN Booth. I am proud to be a BSN Sponsored athlete, working with the world's best fitness supplement company. Their products are second to none, and BSN is the world leader in cutting edge physique and performance products!"
Jennifer Nicole Lee will be at her table at the BSN area, meeting and greeting her fans, signing 8x10s, and autographing both of her hard copy books. JNL's camp will also be handing out important information about her up and coming celebrity special events and media updates. Be sure to stop by to meet this living legend, and not to miss an opportunity of a life time.
###