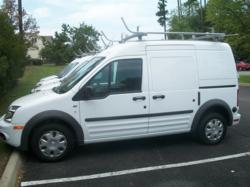 Glen Allen, Va (PRWEB) September 21, 2011
Wheat Systems Integration is doing its part to help the environment. The rapidly growing company invested in four 2012 Ford Transit vans. All four vans average 24 mile per gallon during travel. The vans are made with a special aluminum which weighs 250 pounds less than average van. The vans were purchased for a 100 percent Minority-Owned Business and support the local business in Richmond. It is win-win scenario, helping the environment while supporting the community.
With the recent growth at Wheat Systems, it became clear the staff would need more equipment and vehicles to complete various projects. Considering the unstable gas prices and the need to cut back on carbon emissions, Wheat Systems wanted to do its part to keep the environment clean for future generations. The last means of transportation Wheat Systems deployed averaged about 15 MPG. When it comes to the environment, the little changes can make the largest impact.
By the nature of the industry alone technology helps the environment. Everyone remembers the days when paper was the best source of communications. Trees were destroyed in the name of filing systems, snail mail and legal paperwork. Now everything is electronically transmitted. With the emergence of the cloud, it is clear there will be of a less need to use the earth's natural resources. It seems only logical for a company who in many ways already helps the planet to extend its efficiency to the business' means of transportation in order to lower the carbon footprint even further.
About Wheat Systems Integration
Established in 1999, Wheat Systems focuses on solutions to integrate business systems, processes, and procedures in a secure environment. Incorporated in Glen Allen, Wheat Systems' goal is to constantly push the edge on emerging technology. Wheat provides information technology services to private and public sector entities. Wheat is a 100 percent woman-owned, SWaM certified small business.
# # #