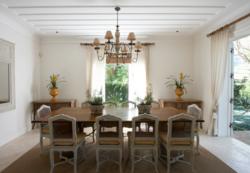 "It is this service offering that really appealed to us." says Marcos Menezes (Managing Director of Oficina Inglesa)
(PRWEB) September 02, 2011
The White Room is the UK's only specialist home and lifestyle agency to offer the three distinct disciplines of brand and marketing, home interiors PR and photography under one roof. With a dedicated team of lifestyle & home interiors PR experts and with excellent media contacts they achieve great results for their clients every time. "It is this service offering that really appealed to us." says Marcos Menezes (Managing Director of Oficina Inglesa).
Oficina Inglesa, has been designing and manufacturing high quality classic French furniture pieces since 1987. They are recognised for their highly personal bespoke service where all their products are fully adaptable, offering an impressive range including chairs, tables, ottomans, sideboards, armoires and bookcases to suit a broad raft of tastes.
Achieving notable acclaim across five continents, Oficina Inglesa is a specialist in crafting the finest solid wood French style furniture. They have a full range of timeless, superior furniture, where customers are spoilt for choice with a collection that comprises over 600 beautiful pieces. With a comprehensive choice of over 32 standard wood finishes, furniture is available in a range of carefully selected solid woods including Walnut, Cherry, Oak and Mahogany.
Their unique bespoke offering allows for any of the high quality pieces to be customised to meet individual requirements. To suit any customer requirement, all existing wood finishes can be matched, new ones can be created and a combination of woods can also be used in one piece. Oficina Inglesa also offers the choice of an extensive variety of fabrics, finishes, colours and handles to complement an exclusive creation.
Their own factory ensures quality control over the production and manufacturing process to suit individual requirements at the shortest lead times in the field. Drawing on the technical expertise of highly skilled craftsmen, Oficina Inglesa combines traditional woodwork and upholstery methods with the preciseness of modern machinery. For those seeking assistance in creating an exclusive piece, the creative team of designers and experts based at Oficina Inglesa's London Showroom are committed to meeting needs from the initial designing process through to the completion of the finished masterpiece.
At Oficina Inglesa, new products and finishes are constantly being introduced to the collection and it is for this reason that they felt it important to appoint The White Room to handle their PR as each product launch requires the utmost in timing for the product launch.
For more information please visit http://www.oficinainglesa.com for more information.
###