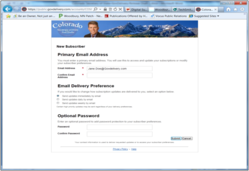 Denver, Colorado (PRWEB) September 06, 2011
GovDelivery announced today that Colorado Secretary of State Scott Gessler has launched GovDelivery's Digital Communication Platform on the department's website allowing Coloradans to stay up-to-date on news and information. The launch directly supports Secretary Gessler's focus on services that make government more accessible and responsive.
GovDelivery Digital Communication Management allows members of the public to subscribe to topics of specific interest through email and other digital channels such as social media and SMS. This allows residents to quickly learn about important news that would be of interest to them almost immediately after the Secretary of State posts new information. Within a few clicks, citizens can sign up to learn more about the critical information coming out of this office, including business identity theft protection, charity scams, voter information, and other areas of interest.
"This highly effective communication tool will help alert our customers to potential scams, while encouraging civic participation," Gessler said. "I'm encouraging business leaders, voters, notary publics and anyone with interaction with my office to register for these updates and quickly receive the information they need."
The system improves responsiveness to the public through proactive communication, and reduces paper use and delivery costs by sending information digitally instead of on paper.
"Secretary of State Gessler has set government accessibility and responsiveness as key goals of his office, and GovDelivery helps deliver on that vision," said Scott Burns, CEO and co-Founder of GovDelivery. "Our services provide cost-effective means for government agencies to better connect with the public and dramatically improve the delivery of information."
Signing up is free, easy, and secure. Visitors to the agency website at http://www.sos.state.co.us/ can enter their email address on the bottom of the homepage or on other topic pages to sign up and select from the topics available for subscription. The only information required is an email address, and subscribers can change their subscription details or cancel the service at any time.
About GovDelivery
GovDelivery maximizes direct connections with the public through digital communications. Our digital communication management platform is a comprehensive government-to-citizen email and digital communication solution designed specifically for the public sector. GovDelivery serves more than 450 government organizations worldwide including more than half of major U.S. federal agencies, as well as state, county, and city governments in the U.S., and local authorities and central government agencies in the United Kingdom. Government organizations use GovDelivery to optimize effectiveness, efficiency, and engagement in communications with the public. GovDelivery is a partner company of ICG (Nasdaq: ICGE). For more information, visit http://www.govdelivery.com.
###