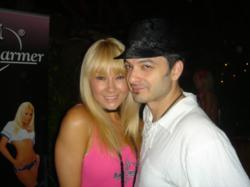 San Mateo, CA (PRWEB) September 06, 2011
In a recent report, Dating Expert Carlos Xuma reveals how to talk to women in a way that allows men to maintain their integrity and self-confidence in any possible scenario.
These days, it seems like every guy is really good at putting his foot in his mouth when it comes to talking to women. The guy tries to act cool and usually looks like a fool.
For instance, if a woman cancels a meeting with a man by leaving a message right before the appointed date, there is a particular way to handle that.
"The man needs to call her back and confront her immediately," Xuma says. "Here's what he says: He tells her he didn't realize that she was such a flake and he's calling to give her a chance to make it up to him because he thinks they look really cute together. What he's done here is make it funny and not serious. It's not weird and he's not being a jerk about it."
The key to approaching women is remembering that as soon as a man makes this brief, light-hearted comment, he needs to shut up and see what she has to say in response, says Xuma who includes this advice and other tips in his recent report.
"Now, the ball is in her court. Remember the first person that talks is the one who loses. If she does respond, but does not apologize and suggest a different time to get together, then game over. She loses," he says. "From there, if the man has learned how to talk to women, then he'll realize that his response should be classy. Say 'Sorry it didn't work out. Maybe we'll try it again some other time.' Then hang up."
This is just one technique that teaches men how to get a girl to like you in a way that they are able to stand firm, maintain their dignity and integrity and at the same time, draw some lines in the sand.
It is important for both men and women to have high expectations in the dating world, Xuma says. When men learn how to talk to women in a way that shows they will not put up with disrespectful behavior and are acting with class, they will eventually attract women of that same caliber.
Xuma teaches men how to improve and excel in these three areas so that women will actually flock to the men instead of the other way around. For years, Xuma has been giving dating advice for men that has helped men improve their seduction techniques, learn how to attract women, and build self-confidence to a higher level than ever before.
Carlos Xuma has been a dating expert and attraction adviser for more than 10 years and has appeared on ABC and CBS television, as well as Playboy radio. He's the author of The Bad Boy Formula, Secrets of the Alpha Male, the Girlfriend Training Program, and numerous other books and articles. He has also been recognized for his work sharing dating advice for men and helps them learn how to talk to women.
For more information, visit Carlos Xuma's website at http://www.carlosxuma.com.
###