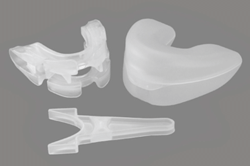 Paraderoncar.com offers Spanish speaking snorers the FDA cleared anti-snoring device VitalSleep.
New York, NY (PRWEB) September 02, 2011
Entrepreneur and Physical Therapist David Hernandez was a snorer. His dentist offered a solution – a mouthpiece that allows more air to flow freely to alleviate snoring. The problem was the price tag - around $3,000. As a result, he went looking for a more cost-effective alternative to correct loud snoring, but didn't find anything. That's when he turned to Dr. Richard Koffler M.D. about creating a new anti-snoring device that would achieve three things immediately – alleviate snoring; be economical to produce and be affordable to buyers of practically every income level. By putting their medical and marketing talents together, they invented VitalSleep – an FDA cleared, fully customizable, anti-snoring appliance.
Retailing at under $50, VitalSleep became a hit with the English speaking public looking for an affordable anti-snoring product. Since that success, Hernandez decided to focus on another market – the Spanish speaking public – so he created a standalone site at Paraderoncar.com, which means "stop snoring" in Spanish, that highlights the benefits of VitalSleep.
"I've seen ads for similar anti-snoring product that are made of a pliable material that molds to the shape of the mouth," Hernandez said. "However, what makes this device unique is that it can also be adjusted to suit the level of snoring, instead of being a 'one size fits all' kind of appliance that are being made by other companies.
This device alleviates snoring by opening the mouth, positioning the lower jaw forward and allowing more air to flow freely. That pressure on the back of the throat is what creates snoring. Again, since this appliance can be adjusted, the wearer can modify how far forward the lower jaw sits. Quite a few cost effective snoring devices lack this important feature, which makes this stop snoring solution more comfortable and effective to use.
"VitalSleep doesn't benefit just patients," Hernandez said. "Loved ones of patients get better rest too if they're not awaken all night long. Plus, we've discovered that healthcare providers are seeing the benefit too. Some patients who can't afford $3,000 on an anti-snoring mouthpiece often go untreated. At Paraderoncar.com doctors have a place they can refer their Spanish speaking patients who can't afford high-end snoring devices or surgeries."
Learn more about this groundbreaking anti-snoring mouthpiece by visiting http://www.VitalSleep.com or http://www.Paraderoncar.com.
###