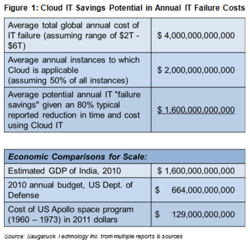 Any expectations of such a scale of potential savings have to be tempered.
Westport, CT (PRWEB) September 08, 2011
If IT projects were baseball players, a batting average of .350 would be a great statistic. Yet in the world of enterprise IT, that same 35 percent is an expensive, unacceptable, and yet typical success rate for IT projects. It is a sobering reality that has most IT organizations, and those responsible for funding them, constantly looking at ways to improve their success rate. Saugatuck Technology believes that it is more important, and more effective, to find ways to reduce failure and its footprint – and that effective use of Cloud IT can be a key to accomplishing that.
The rate of failure for IT projects has been estimated at 33 to 66 percent for the past decade. The estimated costs of failed IT projects range from $2 trillion to $6 trillion worldwide per year. In other words, IT executives and their organizations worldwide are leaving more than a trillion-and-a-half dollars on the table every year by not utilizing Cloud IT resources for their projects. Even with such a broad range of estimates this is a huge failure rate. Saugatuck believes that the number of failures will be difficult to reduce, but that the cost and duration of those failures can be reduced so that overall agility can be increased, and more than a trillion dollars worldwide can be saved annually.(Full report, 938CLS-Cloud and IT Cost of Failure-Aug2011, is available to the media only, by request.)
According to Bruce Guptill, Saugatuck's Sr. VP and Head of Research, "Any expectations of such a scale of potential savings have to be tempered. There are costs involved in moving to and utilizing Cloud IT in IT projects, especially in software/solution development. It takes significant investment of money and time to become Cloud-ready. And there are no guarantees that simply using Cloud IT will reduce an enterprise's project risk or rate of failure. Enterprise management capabilities and styles, financial management, and market conditions, have tremendous impact on project success or failure. That being said, a trillion dollars a year is too great a potential savings to ignore for such potential, mostly procedural challenges."
At the bottom line, given that Cloud-based IT and business are radically changing how both IT and business within and between enterprises are being managed, and how Cloud is enabling both new ways of doing business and entirely new types of business for existing enterprises, and therefore a need for new ways of looking at, thinking about, and managing IT, this is no trivial matter. (884RA, Impact of the Cloud on Enterprises: Harvesting its Economic Value, 5May2011; and 891CLS, Cloud Business and IT: Transformation is the Key to Success, 20May2011).
But neither is the annual loss of trillions of dollars in failed IT projects. Any means that can be effectively managed to reduce that rate of loss needs to be examined and tested by enterprise IT leaders. Waiting too long means wasting too much time and money – precious commodities in today's economy.
About Saugatuck Technology
Saugatuck Technology, Inc., provides subscription research and management consulting services focused on the key market trends and disruptive technologies driving change in enterprise IT, including Software-as-a-Service (SaaS), Cloud Infrastructure, Social Computing, Mobility and Advanced Analytics, among others. Founded in 1999, Saugatuck is headquartered in Westport, CT, with offices in Falmouth, MA, Santa Clara, CA and in Frankfurt, Germany. For more information, please visit http://www.saugatucktechnology.com or call +1.203.454.3900.
###