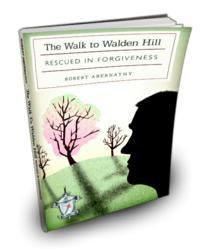 -A true novel of hope in the wake of disaster.
Birmingham, AL (PRWEB) September 01, 2011
Middle School teacher and coach Robert Abernathy doesn't pull punches when describing how some decisions can have long lasting consequences on those we love. His new book, The Walk to Walden Hill, vividly portrays what happens to a young man when he loses his parents and must fend for himself.
Abernathy has the voice of experience. As a teacher and coach he has witnessed first hand how hard it is for young people to emerge from broken families unscathed. But it's the wounds and scars that he himself has received (see book preview) that drives the story, arriving at what for many will be some unexpected conclusions.
Abernathy explains, "In our society we often think that if we throw money at things and create program after program, we can fix anything. We've made divorce so easy that marriage is like a towel that one simply throws out when it gets dirty. I know what that's like. We remove kids from abusive situations and put them into foster care and think we've solved the problem. Though it can be productive, no program can solve our ills. It will be people, always people, who are willing to step into the lives of other people and show them how to carry out the hard business of sustaining healthy relationships."
The Walk to Walden Hill is not autobiographical, even though it draws on some of the author's experiences. In an innovative twist, there is one aspect of the book that looms larger than life because it is very much rooted in real life, and that is the character of Paul Walden. While the rest of the book is fiction, there really was a Paul Walden.
Coach Abernathy explains, "I wanted to preserve Mr. Walden's legacy. Though he is definitely a larger than life character in this book, he surely lives in it." The recently deceased Paul Walden was a rock in a troubled sea for many in the community and a dear friend to Abernathy.
Abernathy's book doesn't pull punches about the damage that embarrassment, loneliness, grief, and a broken family can inflict on a soul. Readers are able to resonate with the main character, Josh Billows, because all of us have endured such things at one time or another. Surprsingly though, on the flip side, readers will find themselves deep into the heart of one who seeks to be forgiven as the book progresses.
"I've felt the disappointment of reaching out for forgiveness and being turned away," Abernathy says. "But I've also experienced the healing that comes from genuine reconciliation. It's a hard thing to do, and we often need help along the way, but it is real and it is possible."
But are forgiveness and reconciliation really powerful enough to address our truly darkest societal topics? What about criminals? What about abusers? What about those who are victim of humanity's worst actions?
Abernathy argues, "Our problem as a society, and even as Christians, is that we are too afraid to look in the mirror and confess who or what we truly are. I would rather forgive someone guilty of atrocities who's genuine, remorseful, and knows who they truly are, than sit next to the smiling intentional hypocrite in a church pew. My hope is that this novel brings our inability to evaluate ourselves to light."
In addition to writing full length novels, coaching, and teaching, Abernathy is also a local musician, singer, and songwriter He resides in Birmingham, Alabama with his wife, Deedee and three children.
Robert Abernathy will be signing copies of The Walk to Walden Hill in Gadsden, AL, this Friday, September 2nd at Gadsden Christian Bookstore, which is located at 434 Broad Street. The bookstore's phone number is 256-546-5911. The event begins at 6:00 p.m. and ends at 8:30 p.m.
Copies of the book can be found here. More information about the book can also be found at the website: http://www.waldenhill.net
Robert Abernathy is available for interviews at (205) 834-2512.
###