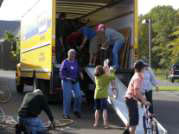 Newtown, PA (PRWEB) September 01, 2011
Please bring used and/or repairable bicycles to Pennswood Village, located at 1382 Newtown-
Langhorne Road on route 413, 0.6 mile south of the Newtown bypass, on Saturday, September 24 between 9:00 a.m. and noon.
Bikes for the World will ship donated bicycles to community development programs in developing countries, where they are reconditioned and distributed at modest cost to low income people in need of reliable transportation.
Tax-deductible receipts will be available for the value of the bicycles as well as cash donations. A donation toward shipping costs is requested (suggested minimum: $10 per bike). Bikes may be old; tires may be flat. That's no problem. But they must be reasonably complete and have no more than a little rust. Children's as well as adult bikes, but no tricycles are accepted. Bikes for the World also accepts donations of working electric portable sewing machines. So take your no-longer-wanted bike out of the garage and give it a chance for a productive second life! Tell your friends and neighbors.
Pennswood Village is a nonprofit Continuing Care Retirement Community located in Newtown, PA that is home to more than 450 residents ages 65 and older.
Bikes for the World is a nonprofit organization whose central mission is to collect unwanted bicycles and related material in the United States and deliver them at low cost to community development programs assisting the poor in developing countries. Bikes for the World uses the donated bicycles to help set-up self-sustaining bicycle repair operations which can make enough money to pay the shipping costs for subsequent container shipments of donated bicycles.
Bikes for the World was founded in January 2005 and made its first independent shipment in February 2005, to Honduras. In its first six years, Bikes for the World has donated more than 50,000 bicycles to partner agencies in eleven countries, as well as to several programs serving youth and adults in the Washington, D.C. metropolitan area.
For further information contact Pennswood Village at 215-504-1129 or info(at)pennswood(dot)org or visit http://www.bikesfortheworld.org.
# # #