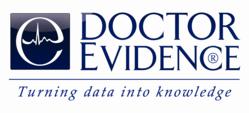 Doctor Evidence solutions are based on an integrated software platform that delivers web-based comparative effectiveness evidence.
Santa Monica, CA (PRWEB) September 06, 2011
Doctor Evidence is proud to announce three new clients from the top 25 pharmaceutical companies. With these three new clients, the Doctor Evidence clientele now includes 6 of the top 10 and 8 of the top 15 pharmaceutical companies, based on a ranking of market capitalization this year. Doctor Evidence provides evidence-based software solutions, such as the Evidence Engine and the Evidence Portal, to industry leaders so these companies can find answers to clinical questions in a fully transparent and user-friendly platform.
Doctor Evidence's powerful evidence solutions serve a variety of industries, such as life science, payer, academic, and pharmaceutical. As part of Doctor Evidence's commitment to accuracy and client satisfaction, the latest version of the National Health and Nutrition Survey Evidence Engine software now includes integration with SAS software. This integration will enhance confidence intervals, allow users to search content in an external browser, and provide export tools for query results. Doctor Evidence's primary software solution, called the Evidence Portal, is an analytics system used to answer strategic clinical questions, inform formulary decision-makers, develop care management guidelines and help identify core efficacy, effectiveness and safety concerns.
"Our products assist pharmaceutical companies maintain complete data transparency, provide evidence that supports products, and make comparative assessments for immediately responsive, CIA regulatory transparent communications to payers," said Robert Battistia, CEO. "In an environment of increased regulation, our company is leading the way in the clinical evidence market. We are enthusiastic about the value our products will bring to top pharmaceutical companies."
About Doctor Evidence
Doctor Evidence is the leader of digital software technologies companies which process clinical data and deliver information to industries within life science, healthcare, academia and government. The Doctor Evidence database enables users to conduct meta analyses with the highest level of accuracy, relevance and efficiency in the evidence-based medicine market today.
Doctor Evidence is at the forefront of the healthcare comparative effectiveness and systematic review repository sector. Doctor Evidence is transforming the healthcare sector by providing a solution that reveals the "total cost-of-care" of any intervention in relation to its comparative efficacy and comprehensive care benefits.
###