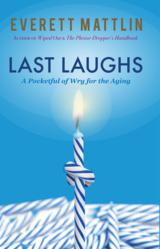 Sloth is no longer a sin, Mattlin writes. It's a gift bestowed on survivors.
Washington, DC (PRWEB) September 02, 2011
The average American toils long hours at the office, spends just as much time in traffic, and lives high and dry in order to have a secure retirement. So when one reaches their golden years and it all starts to finally dwindle down, is a trip around the world, or learning Chinese, or taking up ceramics really the first thing on one's to –do list? Doesn't it sound much nicer to be able to lie down in a comfy bed, spread out (sans snoring spouse), and take a nice nap?
Author Everett Mattlin understands the simple pleasures of a good pair of shoes, a comfortable rocking chair, and a quiet night in, but mostly he understands the complete satisfaction of having the last laugh. In his collection of humorous essays, entitled Last Laughs: A Pocketful of Wry for the Aging (Two Harbors Press; ISBN 978-1-936401-34-5; May 2011; $14.95) Mattlin covers the travesty of traveling, excruciating exercise, doctor's appointments day and night, and of course some warm reflections on the importance of family…no matter how crazy they make you.
Everett Mattlin's wry and witty voice brings a fresh perspective on aging that you won't find in any senior center brochure."Sloth is no longer a sin," he writes. "It's a gift bestowed on survivors."
Get this and many other nuggets of truth from everettmattlin.com, Amazon.com, and Barnes and Noble online. Last Laughs is available through Ingram Books and Baker & Taylor. Contact Emily Weiss at Two Harbors Press for review copies and appearance requests.
About the Author: Everett Mattlin is the author or co-author of Wiped Out and A Zebra in Lion Country (both published by Simon & Schuster), The Phrase-Dropper's Handbook (Doubleday), Wealth: An Owner's Manual (Harper), and Sleep Less, Live More (Lippincott). His articles and essays have appeared in Esquire, New York, The New York Times Magazine, GQ, Town & Country, Family Circle, Playboy, Common Review and other publications. He has three sons and four granddaughters and lives with his wife Barbara Patocka in Potomac, Maryland.
###