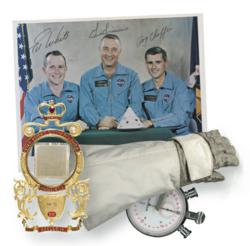 Amherst, NH (PRWEB) September 01, 2011
The uncertain future of the NASA space program may mark the end of the greatest era of innovation and exploration that the country has known. Until we choose again to reach for the stars, most will need to settle for the next best thing—to collect a piece of what may have been the "final frontier."
RR Auction, an Amherst, NH-based company, is making it happen—by offering a treasure trove of more than 800 unique and amazing historical objects in a Space and Aviation Artifacts auction in September 2011. This special offering features a unique blend of signed material and flight-flown objects — from space and historic terrestrial pursuits.
Among the museum-quality pieces to be featured:
The First Lunar Bible: A flight-flown intact microfilm King James Bible containing all 1,245 pages. The bible was produced by the Apollo Prayer League, a group of NASA engineers, scientists, administrators and astronauts, and headed by NASA chaplain Rev. John Stout, who worked closely with the astronauts and NASA personnel. This lunar bible was originally slated to fly to the moon on Apollo 12, but a mistake on the lunar landing checklist resulted in the bible orbiting the moon in the Command Module. It was, then, placed on board Apollo 13, but due to a near-catastrophic explosion, the crew did not reach the moon, and instead returned along with the bible to Earth. Bibles were then given to Apollo 14 Lunar Module Pilot Edgar Mitchell who stowed them in his PPK bag and landed them safely on the moon February 5, 1971, on board lunar module Anteres.
A Letter Home From America's First Man in Space To His Parents in Derry, NH.
A rare and monumental handwritten letter from Alan Shepard, in which he tells his parents, in his hometown of Derry New Hampshire, of a briefing "on the plans for putting a man in space sometime during 1961."
A typed letter from Neil Armstrong, written just three weeks, before Apollo 11, discussing the global importance of the first words spoken from the moon. This amazing letter that pertains to one of the most historically significant broadcasts of all time—the first words sent to Earth from another world. Even before Armstrong, Aldrin, and Michael Collins would lift off for the moon on Apollo 11, people wondered what those words might be. With the danger and uncertainty that swirled around the historic NASA mission, its success was more important to the Armstrong and the crew than what words would be uttered. As Armstrong noted here, "We do not know at this time what our inclination will be should we be successful in our landing attempt. I certainly hope you will be pleased with whatever message we do have." The astronaut later explained that following a train of thought that he had had after launch and during six hours and 40 minutes after landing, he developed the now famous line, "That's one small step for (a) man, one giant leap for mankind."
Neil Armstrong's incredibly rare Apollo training glove—precisely molded for the hand of the first moonwalker! Part of the A7L suit that was the final suit design for the of his hand, would have to be one of the final mock-ups prior to launch, and it replicated the EVA pressure suit glove—the same one that would have been used on the surface. Designed to withstand the rigors of travel in space, the modern materials used in such artifacts have deteriorated over the years, making this relatively well-kept exemplar a true scarcity!
Apollo guidance computer display and keyboard (DSKY) unit—the instrument that allowed the astronauts to communicate directly with the on-board guidance computer. This extremely important original piece of equipment was removed from the CM simulator at the Johnson Space Center and was used by every Apollo crew member-- including Armstrong, Aldrin, and Collins— as they tirelessly trained for hours in that simulator on this piece of equipment. It was one of the most important and critical instruments to landing a man on the moon.
Apollo 11 Space Waste: A sample of waste water taken from the Apollo 11 command module after its return to Earth. The item is a 2.5-inch tall bottle about one-quarter of the way full of the clear liquid. A typed label affixed to the glass reads "Apollo 11, Post Flight Waste Tank 0720Z 7/25/69." According the consignor, the liquid is actually condensation formed as a result of the astronauts breathing.
Confederate Civil War Plans for a"Steam Powered Flying Machine," in a 286-page hardcover account that includes unpublished pencil drawing by Richmond, VA dentist, R. Finley Hunt's "Flying Machine." Hunt's unbelievable plan to bring air warfare to the conflict had twice contacted Confederate President Jefferson Davis. Like the Union Army, the Confederate Army had made use of balloons during the conflict with limited success. Hunt envisioned something much more elaborate—and unheard of.
A detailed archive of letters, notes, and drawings regarding "flying machines"—once presented to the Confederate government and that could have altered the course of the Civil War.
Other noteables include: A Flight-flown Russian Soyuz Sokol KV-2 pressurized crew "rescue" suit that includes a helmet, gloves, boots, and slip-ons, as made by Zvedza for Soyuz cosmonauts' Dave Scott's flight-flown lunar surface stopwatch—used by the mission commander to time the engine burns of Endeavor and Falcon; and an original piece of the "Spirit of St. Louis" fabric that Charles Lindbergh bestowed upon a federal official.
All signed items have been reviewed by Scott Cornish, who has studied autographs for more than 30 years and specializes in authenticating space autographs; Ken Havekotte, well known for his expertise in this area, has reviewed all flight-flown material. For information, visit the RR Auction web site at http://www.rrauction.com.
ABOUT RR AUCTION
For 30 years, RR Auction has offered collectors more than 1,250 quality, fully guaranteed signed items each month, including photos, documents, letters, and books from a variety of categories. We employ well-regarded in-house experts to examine every item they auction, as well as coordinated with third-party authenticators in their fields of expertise. RR Auction offers a full 100% lifetime guarantee of authenticity for each of their autographed items
To arrange an interview with Bobby Livingston, VP of Sales & Marketing with RR Auction, contact Media Relations, rr-pr(at)live(dot)com or phone (917) 829-6879.
###