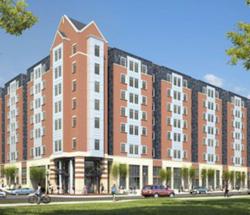 "It was clear that VCU students needed another housing option by the fall 2011 school year." - Bob Gilbane, Chairman and CEO of Gilbane Development Company
Richmond, VA (PRWEB) September 01, 2011
8 ½ Canal Street, a new student housing development at Virginia Commonwealth University (VCU), opened its doors to students earlier this month, adding 540 beds to the rapidly growing community. The project, developed by Gilbane Development Company, was 100% pre-leased prior to opening for its inaugural year.
The 285,000 square-foot, eight-story community came to life in May 2010 when Gilbane Development Company purchased the land and obtained the building permits. Construction concluded in August 2011 – just in time for the fall 2011 school year.
With more than 32,000 students to date and enrollment on the rise, VCU's on-campus housing is unable to meet growing demand. This has driven the need for off-campus student housing communities located within walking distance of campus.
Chairman and CEO of Gilbane Development Company Bob Gilbane said that the driving factor for building at VCU was the desire to offer a superior quality off-campus housing option to this rapidly growing area.
"It was clear that the VCU students needed another housing option by the fall 2011 school year," said Gilbane. "The market factors that made this project an easy decision for us included the demand for quality, off-campus housing, the University's robust enrollment trends, the state's higher education policies and the student demographic profile."
8 ½ Canal Street is located across the street from VCU's recent $228 million Monroe Park Campus expansion and is less than one half of a mile from the center of the VCU campus. Within 8 ½ Canal Street's urban eight stories are two parking levels with nearly 200 parking spaces and six residential levels. The community boasts five different floor plans ranging from one-bedroom, one-bath apartments to four-bedroom, four-bath units.
On August 17, 540 students moved into the new community. Gilbane worked with Campus Advantage, a national student housing management company that was tapped for the project's marketing and leasing, to ensure successful and rapid lease-up.
8 ½ Canal Street features street-level amenities for students, including a 24-hour fitness center, cyber café, gaming center and clubhouse as well as two private courtyard gardens with barbeques. Each apartment comes standard with 42" flat panel televisions, modern furniture and wood-style flooring. Students also enjoy free utilities, the option of individual or joint leases, in-unit washer and dryer as well as high-speed Internet and premium cable.
The eco-friendly project was designed with green principles in mind in accordance with the LEED® accreditation system.
About Gilbane Development Company
Founded in 1970, Gilbane Development is the project development, financing, and ownership arm of Gilbane, Inc. Developing a wide range of projects for both institutional and corporate clients, Gilbane Development integrates the myriad components of the project delivery and ownership structure and guarantees the results. Completed projects incorporate every aspect of real estate including: student housing, hospital/medical, residential communities, mixed-used developments, parking garages, corporate headquarters, operational data distribution centers, R&D manufacturing facilities, and many types of facilities delivered through public-private partnerships. To learn more, visit http://www.gilbaneco.com or call 1-800-GILBANE.
###