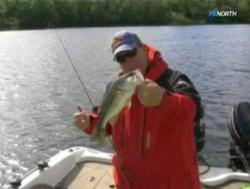 "Sincere thanks are in order for the Lake Osakis Resort Association and others who sponsored the Minnesota fishing tournament. Without them, this Lion's fund raising event would not be possible."
Lake Osakis, Minnesota (PRWEB) September 02, 2011
The Lions Club Walleye Fishing Tournament was held on June 18th and 19th on Lake Osakis in Minnesota. 56 two-man teams participated in the event. Lake Osakis was chosen due to the exceptional Minnesota fishing opportunities that are found in the area. There was no doubt that the tournament results would be exciting as the teams competed for cash prizes based on the total weight of the fish they caught over the two day period.
Each team was allowed to weigh in 6 fish per day with a minimum size of 16 inches. The largest fish registered weighed in at 8 pounds 6 ounces, a sizable specimen. Most of the fish caught were returned to the lake. Holding tanks were set up at the weigh-in site to keep the fish in good condition for later release.
Cash prizes were paid out to the top 15 teams. The first place team this year registered walleyes with a total weight of 25.2 pounds, netting a cash prize of $4,400.00. The team coming in second registered 25 pounds of fish for a $2800.00 prize and the third place team registered 24.9 pounds of fish to earn a $1680.00 prize.
The average size of the walleyes caught during the tournament was 17". Competition was tough with mere fractions of ounces separating the winners. The fishermen got a lot of walleye action on Lake Osakis and truly enjoyed the experience.
Lake Osakis was proud to host the event and assist the Lion's Club in raising funds for the good works they have accomplished in the area. Among the "blessings" bestowed to members of the community were the recent purchase of a trumpet for a teenager who was loosing a leg due to her struggle with spina bifada and providing financing for an area woman to replace her service dog after her animal died. The Lion's club seeks out special needs within the community and sees that those needs are filled.
The Lake Osakis area is blessed with hundreds of nearby lakes and public lands which offer a huge variety of opportunities for visitors and residents alike to enjoy the bounty of nature. Located just off Interstate 94 in west central Minnesota, Lake Osakis has as many different types of lodging as it does recreational choices. Families, couples, individuals and groups can all find the perfect combination of activities and Minnesota Resorts to satisfy their needs and desires in the Lake Osakis area. A listing of current events and community information can be found at http://www.lakeosakismn.
###