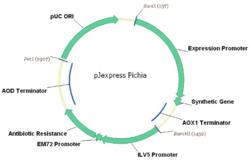 Together with DNA2.0's P. pastoris gene optimization technology, the pJexpress Pichia vectors from the Glieder lab offer the most integrated and efficient path from virtual sequence to expressed protein.
Menlo Park, Ca (PRWEB) September 01, 2011
DNA2.0, the leading provider of bioengineering solutions, today announced the expansion of the company's industry-leading family of expression vectors with the introduction of pJexpress Pichia. These vectors are free from intellectual property restrictions and are immediately usable for P. pastoris protein expression. DNA2.0's pJexpress Pichia vector orders are processed with the same speed and PhD-level support that customers have come to rely upon from the world's fastest provider of synthetic genes.
"We continue to expand our pJexpress line of protein expression vectors to meet our customers' research and development needs," said Claes Gustafsson, Chief Operating Officer at DNA2.0. "Controllable, consistent and strong protein expression is your goal regardless of the type of research in which you are engaged, and freedom from the headaches associated with patent licensing saves you critical money and time. Together with DNA2.0's P. pastoris gene optimization technology, the pJexpress Pichia vectors from the Glieder lab offer the most integrated and efficient path from virtual sequence to expressed protein."
The pJexpress Pichia protein expression vectors were constructed by the world-leading P. pastoris laboratory of Anton Glieder at the Institute of Molecular Biotechnology, Graz University of Technology, in collaboration with the Research Centre of Applied Biocatalysis and VTU Technology. DNA2.0's pJexpress Pichia vectors offer exceptional levels of protein expression with inducible or constitutive expression—with or without secretion tags—that are free from the constraints of intellectual property.
"We are excited to distribute our set of Pichia expression vectors to the scientific community," said Toni Glieder, Professor at Graz University of Technology. "DNA2.0's unique gene optimization technology for P. pastoris is a nice fit for the expression vectors we have developed internally at TU Graz, and the combination offers an unbeatable expression system for one of the most industrially relevant protein-production hosts available today."
pJexpress Pichia Features:
*pJexpress Pichia vectors offer equal or higher levels of protein expression than comparable vectors.
*Free from IP restrictions
*Resistance marker choice: Zeocin (selection in both E. coli and P. pastoris) or Kanamycin (E. coli)/Geneticin (P. pastoris)
*pUC ORI for E. coli
*Alpha factor Signal Sequence available for secreted expression
*Promoter choice of AOX1 for methanol inducible expression or GAP1 for constitutive protein expression
IP Protection and Superior Customer Service
While many other gene synthesis companies offshore manufacturing to areas of the world with lax IP protection, all DNA2.0 genes are made at the company's state-of-the-art facility in Menlo Park, thus ensuring the greatest security for patented or confidential sequences. DNA2.0 guarantees researchers high-quality synthetic genes, delivered on time, every time.
About DNA2.0
DNA2.0 is the leading bioengineering solutions provider. Founded in 2003, DNA2.0 provides an integrated pipeline of solutions for the research community, including gene design, optimization, synthesis and cloning, as well as platforms for protein and strain engineering. It is the fastest provider of synthetic genes—based in the US with a global customer base encompassing academia, government and the pharmaceutical, chemical, agricultural and biotechnology industries. DNA2.0 is by far the most published synthetic gene vendor, providing expert support to and collaboration with scientists. DNA2.0 explores novel applications for synthetic genes and is exploiting the synergy between highly efficient gene design and synthesis processes and new protein optimization technologies. DNA2.0's tools and solutions are fueling the transformation of biology from a discovery science to an engineering discipline. The company is privately held and is headquartered in Menlo Park, Calif. For more information, please visit http://www.DNA20.com.
###