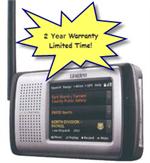 Whether a customer buys a NASCAR scanner or the Home Patrol, we want them to enjoy their scanner to the fullest. That's why we make so much information available right on the site
Clarksville, MD (PRWEB) September 01, 2011
BearcatWarehouse.com is the leading online retailer of premium communications electronics, such as Bearcat scanners, Uniden scanners, CB radios and much more. In addition to boasting the most competitive prices found online, they are currently featuring promotional pricing on Uniden's Home Patrol Pre-Programmed Scanner.
Uniden scanners are a favorite among users for home use, business use and they even offer NASCAR scanners and packages. The Home Patrol digital scanner comes complete with a two-year warranty and lets the user quickly access communications systems used by Public Safety, Military, Weather Spotters and more. It also has GPS capabilities with a kit for use on the go. BearcatWarehouse.com can optimize and set programming for the customer. More features and details are available on the website.
"This model is ideal for a number of uses," points out Rebecca Grosh, with BearcatWarehouse.com. "We can program it with just a zip code and it is user-ready upon delivery."
In addition to great Bearcat scanners at unbeatable prices, BearcatWarehouse.com takes the customer service caliber to the next level. They aim to be a resource for shopper and scanner users. When purchasing, customers can contact BearcatWarehouse.com via phone or email to add custom programming. They can access user manuals through the site to assist with troubleshooting.
"Customer service is a top priority for us," adds Grosh. "Whether a customer buys a NASCAR scanner or the Home Patrol, we want them to enjoy their scanner to the fullest. That's why we make so much information available right on the site. And we're always here to help. Customers that want to be 'in-the-know' can sign up for the newsletter. Really, we're here for every type of scanner use imaginable."
The Home Patrol scanner promotion is featured on the home page of the BearcatWarehouse.com website. Detailed product descriptions are also available for those seeking something else and scanner resources are standing by. For more information, visit http://www.bearcatwarehouse.com.
About BearcatWarehouse.com:
BearcatWarehouse.com is an online retailer of premium communications electronics, like Uniden scanners, police scanners, CB radios, marine VHF radios and more. They are committed to superior selection, pricing, and customer service.
###