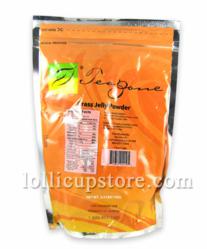 Grass Jelly is a unique treat that can be served in a variety of ways from a drink add-on or served with syrup as a sweet dessert.
City of Industry, CA September 01, 2011 (PRWEB) September 01, 2011
Just because the summer season is wrapping up, the kids are heading back into the classroom, and those holiday vacations seem like a distant memory—it does not mean that it's back to the daily mundane grind. Instead, with the aid of LollicupStore.com, September is the perfect time to discover new flavors, new products, and new lower pricing found only at LollicupStore.com
To kick start the new season into gear, LollicupStore.com is lowering their already low prices on many of their popular items such as Da Vinci syrups, Big Train powders, and Monin sauces. Find all these deals and outstanding products online only at LollicupStore.com.
This September, LollicupStore.com announces a new brand to their all-star line-up of products. Cappuccine® , a master frappetier of blended ice gourmet coffee mixes that cater to the gourmet and specialty coffee aficionados. LollicupStore.com is proud to announce eight exciting flavors from Cappuccine®'s catalogue: Mocha Frappe Double Fudge, Mocha Frappe Mocha Glacier, Latte Frappe Frosted Latte, Specialty Smoothie Base Mix Vanilla Frost, and Specialty Frappe Mixes in Pistachio, Mint Chip Cookies and Cream, and the award wining Red Velvet.
Cappuccine® mixes are widely used at coffee shops, bakeries, restaurants, delis, offices, and homes worldwide. The Red Velvet Frappe mix was even named "Best New Beverage" at the Seattle Coffee Fest 2010. With prices starting as low at $17.95 per bag, you can easily add all these new fantastic flavors to your menu.
The new products continue to roll out on LollicupStore.com with an interesting new flavor from Tea Zone®. The latest product: Grass Jelly Powder. Despite the name, Grass Jelly Powder is not made from grass—instead it's made from an herb that is akin to the mint family. Once cooked, the Grass Jelly Powder can be cut into cubes or other forms and functions as a jelly. Grass Jelly is a unique treat that can be served in a variety of ways from a drink add-on or served with syrup as a sweet dessert. The translucent black color of Grass Jelly adds a fun color texture with a refreshing aftertaste that'll keep your tastebuds intrigued. Add Grass Jelly to your menu for only $11.00 per bag and pair it with a creamy Milk Tea or make it a topping to shaved ice.
Writeable LED signs are the latest advertising and attention-grabbing tool that any business can utilize to advertise promotions, specials, and display information that is guaranteed to attract optimal foot traffic into their establishment. LollicupStore.com not only offers budget-friendly prices on twelve different Writeable LED signs, but you'll also save even more because these eye-catching signs are lit-up from energy saving LED lights. Writeable LED signs are perfect for cafes, ice cream parlors, bars and pubs, hair and beauty salons, florists, convenience stores, classrooms, churches, retail store, and many more. Pricing for the Writeable LED signs start as low as $69.00 for the sign and three markers.
To round out all the new flavors, LollicupStore.com announces new additions to their already expansive collection of gourmet flavorings from Monin. The new additions of Monin syrup flavors are Green Mint and Candied Orange. The Monin Green Mint syrup is aromatic and refreshing the flavor is typically found in hot teas and sugar confections. The Monin Candied Orange syrup is perfect for any café looking to add a sweet-yet-tart flavor to their latte menu without the chance of curdling the milk in the latte.
Expand your menu and tastebuds this September with the help of LollicupStore.com without reaching deep into your wallets.
About Lollicup® USA, Inc.
Lollicup® USA Inc. is headquartered in City of Industry, California and is widely known for retailing bubble tea drink products under the Lollicup® Coffee and Tea and Lollicup TeaZone® brands. For more information, please visit LollicupStore.com
###