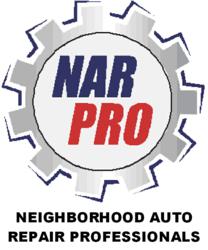 In this job market, more people want to be in control of their destiny.
Phoenix, Ariz. (PRWEB) September 20, 2011
Small businesses like NARPRO (the Network of Neighborhood Auto Repair Professionals), as well as franchise-owned organizations, are helping lead the way in economic recovery and job growth after the recent US recession. According to the International Franchise Association (IFA), franchise growth is projected to increase 2.5% in 2011, resulting in approximately 19,000 new individually owned businesses this year. The IFA states the growth in franchise businesses is good news for the US with research indicating when small businesses thrive so does the economy as a whole.
According to the IFA, the largest growth sectors in 2011 are expected in lodging (4.4 percent), automotive (3.9 percent) and retail products and services (3.9 percent). In addition, recent reports have proven that the auto repair industry is practically recession proof. An article from TIME Magazine's website stated that the worse the economy, the more business auto repair shops receive, as the result of many consumers keeping their cars longer in order to pinch pennies. The article goes on to state that "Sales figures at auto repair shops are expected to rise another 5% this year."
Phoenix based auto repair referral service NARPRO understands the need for growth in the automotive sector. Recently featured in a Phoenix Business Journal article, NARPRO is on track to expand their service through the sale of franchise opportunities in 110 markets across the country (an increase from the 75 markets indicated in aforementioned article.) Currently NARPRO provides services to the Phoenix and Tucson, Arizona markets as well as Portland, Oregon.
"We have done a lot of research and discovered consumers would rather work with independently owned auto repair shops but they just don't know how to find a reputable one," said Jay Jennings, General Manager, NARPRO. "Our goal is to bring NARPRO's services to the national market and right now we're looking for viable candidates to run our organization here."
According to Jennings, the ideal franchise candidate would have a strong sales background, the desire to be their own boss in the flourishing auto industry and have a high level of integrity.
Jennings added, "In this job market, more people want to be in control of their destiny."
NARPRO is currently looking for professionals who want the opportunity to use their skills to build a successful business of their own while being a part of a network with a proven track record.
To speak with Jennings directly about the future of NARPRO in your market, contact him at (602) 228-6217. To view recent news segments about NARPRO and franchise opportunities, visit their YouTube site.
About NARPRO
Business partners Jay Jennings and Alan Tarr founded NARPRO, the Network of Neighborhood Auto Repair Professionals, in 2004. NARPRO helps consumers find top, independent and honest auto repair and auto body shops near where they live, work or travel. Every member shop in the network must pass NARPRO's 26 tests of quality, integrity and customer satisfaction before they can qualify. As of 2011, NARPRO is launching a national expansion to 110 markets across the US through an exclusive franchise program. For more information about NARPRO and its founders, visit http://www.NARPRO.com
###