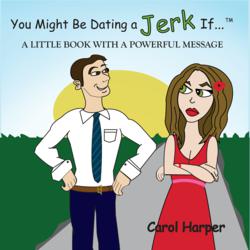 "Carol wants to start a movement for women to be empowered and 'say no to a jerk'..."
(PRWEB) September 02, 2011
With Anthony Weiner, Governor Schwarzenegger and John Edwards in the news, Carol Harper is the lady to interview. Her new book, You Might Be Dating a Jerk If… is packed full of humorous entries from Ms. Harper's dating experiences. Some of the entries are serious and tell how men can be disrespectful to women. Her book will be released on September 4th at the Decatur Book Festival in Atlanta this Sunday.
Since Carol lived in Washington, she knows firsthand about dating political figures and many of them were jerks. As a young woman working in Washington, D.C. she attended cocktail parties on "the hill" every Friday. As a Washington insider, she knows what goes on behind the scenes with congressmen. She dated a few of these high profile men and has some stories to tell.
Shortly after Ms. Harper moved to Atlanta, she was hit head-on by a drunk driver. In the 100 M.P.H. impact, the steering wheel hit her face and broke her nose, jaw and crushed her facial bones to powder. After six surgeries to rebuild her face, she never looked the same.
Ms. Harper's first book, Of Face Value, is based on her true story about how she discovered that true beauty comes from within. The purpose of her new book is to make woman aware that they are with a man that doesn't respect them. As a self-esteem coach and speaker, Ms. Harper helps woman raise their level of self-esteem so they won't attract jerks.
Carol wants to start a movement for women to be empowered and "say no to a jerk". A red bracelet with that phrase on it is available to go along with her book. This book is the first in a series of books that will appeal to women of all ages. Ms. Harper wants to help women with their self-esteem so they make wise dating choices. Part of the proceeds from the book will go to a battered women's shelter where Carol volunteers.
The details in the book are brief so Carol can tell you "the story behind the story" in an interview. She will be signing books at booth #227-228 from 2-5 p.m. on Sunday at the Decatur Book Festival in Atlanta.
###