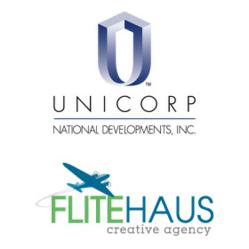 Orlando, FL (PRWEB) September 02, 2011
In 2006, Unicorp National Developments, Inc. (unicorpusa.com) sought the services of Orlando web design agency FliteHaus Creative Agency (flitehaus.com) to complete their brand, including miscellaneous print collateral, and a corporate website.
Nearly five years later, Unicorp is reuniting with FliteHaus to update their brand. Along with a minor upgrade in the website's look and feel, the entire website will be converted to the Drupal content management system, allowing Unicorp and its employees to quickly, and easily, update content including galleries, news releases, and receive work orders.
The new website will include a reorganized and updated project gallery, updated real estate holdings and up-to-date news content.
In addition, the new website will be more user-friendly than before, employing a new work order system. The new system will allow visitors that have submitted work orders to check on the status of their request. This will reduce the number of status request calls to the main office, permitting Unicorp staff to focus on other tasks that will enhance the tenant's experience.
More About FliteHaus Creative Agency
FliteHaus is a branding and web design agency based in Orlando, FL started in 1994. FliteHaus provides logo and branding design, print design, and web design/development for small- to medium-sized businesses looking to enhance their brand image and the customer's web experience.
###