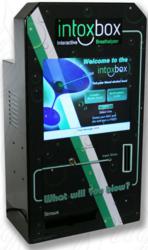 Minneapolis, MN (PRWEB) September 02, 2011
The bar breathalyzer is finally joining the 21st Century.
With its 19-inch touch screen monitor, dynamic graphics and entertaining, interactive user interface, the IntoxBox Interactive Breathalyzer bears little resemblance to the garish, unreliable, toy-like breathalyzers of the past.
After extensive field-testing in its home market of Minneapolis/St. Paul, Walden Innovative Resources, LLC, (WIR) is launching distribution of the IntoxBox on a national basis.
Its advanced programming, interactive user interface, remote monitoring capabilities, and state-of-the-art sensor module, represent a quantum leap in bar breathalyzer technology. The IntoxBox even cycles ads in high definition on its touch screen monitor when the breathalyzer is not in use.
The IntoxBox testing process begins with a simple swipe of the credit card. After users agree to an on-screen waiver, they are guided through an entertaining, interactive testing experience. They're even invited to guess their BAC (blood alcohol content). If they guess correctly, their next test is free. In fact, they can even have the free test activation code texted to their cell phone or email instantly.
"We've tried to make the IntoxBox experience something that entertains, educates and informs the users," explains Ryan Walden, WIR president and co-founder. "Driving under the influence is a very serious issue, and we want to make the testing experience is as appealing and reliable as possible to encourage people to check their BAC before they drive."
Drunk driving accounts for nearly 12,000 deaths, 700,000 injuries and 1.4 million arrests each year in the U.S. Part of the problem, claims Walden, is that bar patrons don't have an opportunity to check their BAC before they leave the bar.
"You wouldn't drive without a speedometer, so why should you be expected to drive without a reliable breathalyzer," asks Walden. "Public awareness campaigns and stricter laws have certainly helped combat drunk driving, but we think this is the most tangible tool yet for curtailing the problem. We're finally giving alcoholic beverage consumers a way to help themselves."
APPEALING TO BAR OWNERS
So why don't more bars offer breathalyzers? Part of the problem has been the inferior quality of earlier breathalyzers. They tended to be gaudy and unreliable—two issues the IntoxBox was designed to address.
"We've tried to overcome that skepticism by engineering an appealing, entertaining, high precision machine that bar owners would want to install in their bars as premium service for their customers," explains Walden.
The IntoxBox is equipped with a state-of-the-art fuel cell sensor and a circuit board-controlled sampling system that is specially engineered to stand up to repeated use with no drop-off in accuracy.
POWERFUL ADVERTISING MEDIUM
With its high definition graphics and 19-inch display, the IntoxBox doubles as an impressive advertising medium that goes where no other medium has gone before—the high traffic areas of America's most popular bars and night clubs. It brings indoor advertising out of the restrooms and into the main area of each location where everyone can see it—and advertisers can choose the specific bars and demographic group they want to reach.
The IntoxBox displays each ad 12,000 times a month during prime business hours.
REMOTE MONITORING
The IntoxBox is also the first breathalyzer with a remote monitoring system that allows operators to troubleshoot equipment functions, track paid transactions, and monitor straw tray levels from their laptop or desktop computers or smart phones.
"From a distributor's perspective, the remote monitoring capability may be the most significant advancement of all," says Walden. "They can see if the machines are working properly, they can check the straw level, and they can see how much each machine is earning each day from both dollar bills and credit cards."
For operators, the remote monitoring saves on both time and gasoline. They don't have to make the rounds regularly just to make sure the machines are up and running—and they don't have to worry about angry calls from the bar owners complaining that their breathalyzer is down. They can check all their machines every day from their home or office.
SEEKING DISTRIBUTORS
After fielding testing and refining the box design, programming and sensor module in the Minneapolis market, WIR is beginning the search for distributors interested in placing the IntoxBox in markets across the U.S.
"The market is wide open right now," says Walden. "There are more than 80,000 bars in the U.S., and they could all use a good breathalyzer. We're looking for entrepreneurs who are interested in a great ground floor opportunity to distribute the IntoxBox in their area."
For more information on the IntoxBox, please go to http://www.intox-box.com or contact Gene Walden at 952-201-9362.
###