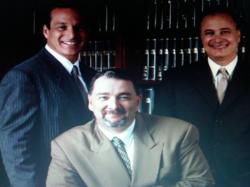 Court documents state that Plaintiffs claim their damages are in excess of $30,000,000 and that remediation may cause the shut down of their business
Los Angeles, CA (PRWEB) September 06, 2011
Attrorneys Joe Curd and Alex Galindo of the law offices of Curd, Galindo & Smith, LLP announced today that U.S. District Court Judge S. J. Otero sent Plaintiffs' (Y & S Auto Body) case (Safar et al v. Kinder Morgan et al U.S. District Court/Central District Case No.: CV10-7171 SJO) back to Judge Roy Paul in Los Angeles Superior Court-San Pedro.
Judge Paul will now decide the issues raised by Plaintiffs (Younan Safer and Y & S Auto Body) including claims that toxic hydrocarbon pollutants leaked from the neighboring property owned and operated by Kinder Morgan onto Plaintiffs' property. Plaintiffs, in their lawsuit, have alleged that its soil has been contaminated by oil and other hydrocarbon products as a result of years of leaks emanating from storage tanks maintained by Kinder Morgan.
Court documents state that Plaintiffs claim their damages are in excess of $30,000,000 and that remediation may cause the shut down of their business. Plaintiffs are engaged in on-going testing and monitoring of their site to insure that the pollutants are not contaminating the ground water.
The court file also shows that Kinder Morgan, who originally counter sued British Petroleum (BP) over the same contamination, denies the claims. Court documents state that Kinder Morgan has sold its former site for residential development. The California Department of Substance Control continues to monitor the site for the safety of the public.
CURD, GALINDO & SMITH, LLP is a civil business litigation firm that represents both corporate and professional clients of all sizes and those who have been seriously injured or have lost a family member due to an accident, defective product, police misconduct or negligence. The law firm has recovered millions of dollars for its thousands of clients since 1995 by winning complex and challenging business disputes, death and injury cases involving police misconduct, traffic collisions, work place injuries and defective products, including defective automobiles, against some of the world's largest companies and governmental agencies.
###