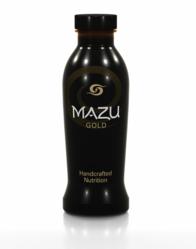 We believe so strongly in the effectiveness of Mazu Gold™ that we absolutely had to find a way for families to experience the power of Mazu with no risk.
Austin, Texas (PRWEB) September 02, 2011
FreeMazu.com is pleased to announce the release of an exclusive offer for Mazu Gold™ not found anywhere else. The health and well-being of families is of vital importance and as such FreeMazu.com has decided to offer a Free Trial of the world's 1st health, vitality & longevity tonic, for a limited time and in limited quantities.
Jay from FreeMazu.com had this to say, "We believe so strongly in the effectiveness of Mazu Gold™ that we absolutely had to find a way for families to experience the power of Mazu with no risk."
About Mazu Gold™ - The Wellness Drink
Mazu Gold is a potent combination of three "original source" ingredients. These ingredients have been studied and utilized for hundreds, if not thousands of years. Each ingredient was selected for its unique abilities to support natural body systems, and when combined in one innovative product, they work together to promote well-being. Mazu Gold was specifically formulated to be the perfect balance between nature and science, land and sea, protection and vitality.
This extraordinary health elixir is the culmination of decades of discovery, 15 international patents and more than $40 million in scientific research and development. Yet its' roots from land and sea are almost as ancient as the earth itself.
The secret to Mazu Gold's success lies in its' superior Triple Action Antioxidant power of unique brown algae deep sea extract, far stronger than anything from the land, plus over 70 organic trace minerals from the earth, blended in an organic solution of fresh, organic, nutrient rich Aloe vera - all working together to protect and prolong the life of your DNA, and you!
Absorbinol™
It's no secret to nutritional scientists that most nutrients taken in pill form are poorly digested and absorbed into the blood stream. The exception is where the vitamin, herb or mineral is suspended in an Aloe vera liquid where it can enhance absorption of vital nutrients 200-300%!
Mazu Gold's remarkable ingredients not only enjoy superior absorption via the generous amount of organic, Kosher aloe per 2oz. "shot", but the humic nutrient, organic minerals in Mazu also help the unique Ecklonia ingredients to be better absorbed by the specific cells that most need them. In fact, it's a process so unique it's trademarked — Absorbinol™.
For more information about Mazu Gold™ and the limited offer presented by FreeMazu.com, please visit http://www.freemazu.com
Mazu Gold™ was developed and is manufactured by Mazu Global. FreeMazu.com is an independent associate of and in no way represents Mazu Global. All trademarks belong to Mazu Global.

These statements have not been evaluated by the Food and Drug Administration. This product is not intended to diagnose, treat, cure or prevent any disease. If you are pregnant, nursing, taking medication, or have a medical condition, consult your physician before using this product.
###