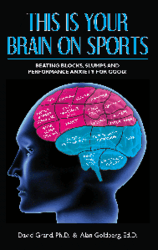 By processing past traumas, athletes can overcome them and return to peak performance.
Amherst, MA (PRWEB) September 07, 2011
This book introduces the concept of sports traumatic stress disorder, which the authors claim cause most significant performance problems for athletes. Sports traumas such as injuries, humiliation and failures keep athletes from achieving optimal potential. Case histories, including New York Mets catcher Mackey Sasser and a college pitcher, offer real-world evidence of their breakthrough theories. Athletes who sustain physical and psychological injuries unconsciously accumulate them over time until they reach a critical mass, eventually forming "the invisible seeds" for repetitive performance difficulties, the authors write.
"This is Your Brain on Sports" does more than just point out the issue. The authors unveil their "Brainspotting Sports Performance System," which they say, "quickly finds, releases and resolves the sports traumas" athletes hold in their brain and body, leading to performance anxiety and blocks. Unlike traditional sports therapy, the authors recognize that athletes are vulnerable to physical and emotional trauma – their problems are not necessarily under conscious control. Instead of treating troubled athletes with talk therapy, they use techniques that include eye position to find where the brain is holding the problem to release the trauma's present effects. By processing past traumas, athletes can overcome them and return to peak performance.
Dr. Alan Goldberg, former sports psychology consultant for the University of Connecticut, is an international expert in applied sports psychology with more than 26 years of experience with athletes in all sports from professional to junior competitors. He wrote Sports Slump Busting and Playing Out of Your Mind. To learn more, visit http://www.competitivedge.com. Dr. David Grand, developer of the internationally acclaimed Brainspotting approach, is a performance expert, psychotherapist, writer, lecturer and humanitarian. Therapists on every continent use his Brainspotting method and BioLateral Sound. He wrote Emotional Healing at Warp Speed. To learn more, visit http://www.brainspotting.pro.
For more information, visit http://www.thisisyourbrainonsports.com
"This is Your Brain On Sports: Beating Blocks, Slumps and Performance Anxiety for Good!"
David Grand and Alan Goldberg
Dog Ear Publishing
ISBN: 978-160844-864-7 228 pages $24.95 US
Available at Ingram, Amazon.com, Barnes & Noble
and fine bookstores everywhere
About Dog Ear Publishing, LLC
Dog Ear Publishing offers completely customized self-publishing services for independent authors. We provide cost-effective, fast, and highly profitable services to publish and distribute independently published books. Our book publishing and distribution services reach worldwide. Dog Ear authors retain all rights and complete creative control throughout the entire self-publishing process. Self-publishing services are available globally at http://www.dogearpublishing.net and from our offices in Indianapolis.
Dog Ear Publishing – self-publishing that actually makes sense.
###